No matter the work we do, being well lit is essential! In an office, you will naturally already have the glow of a computer screen. However, it's never healthy to work in the dark, staring at a screen – so you need to consider more comprehensive lighting. What's more, you may not even be working in an area where natural light reaches you.
With office and workplace lighting, there needs to be a careful balance. Lighting in the workplace needs to be not only practical but also inspiring. Dark, gloomy, or badly-lit offices are hardly likely to get the best out of the team! What's more, not all lighting is naturally healthy for our bodies for long periods, either.
Therefore, in this guide, we've put together a few ideas on what you need to know when setting up office lighting. How do you strike that balance between practicality and aesthetics? Arrow Electrical is always pleased to help you find fittings and fixtures that work wonders. However, before you go ahead and buy, be sure to read below for the full lowdown.
Glare is the Enemy – and so is Dimming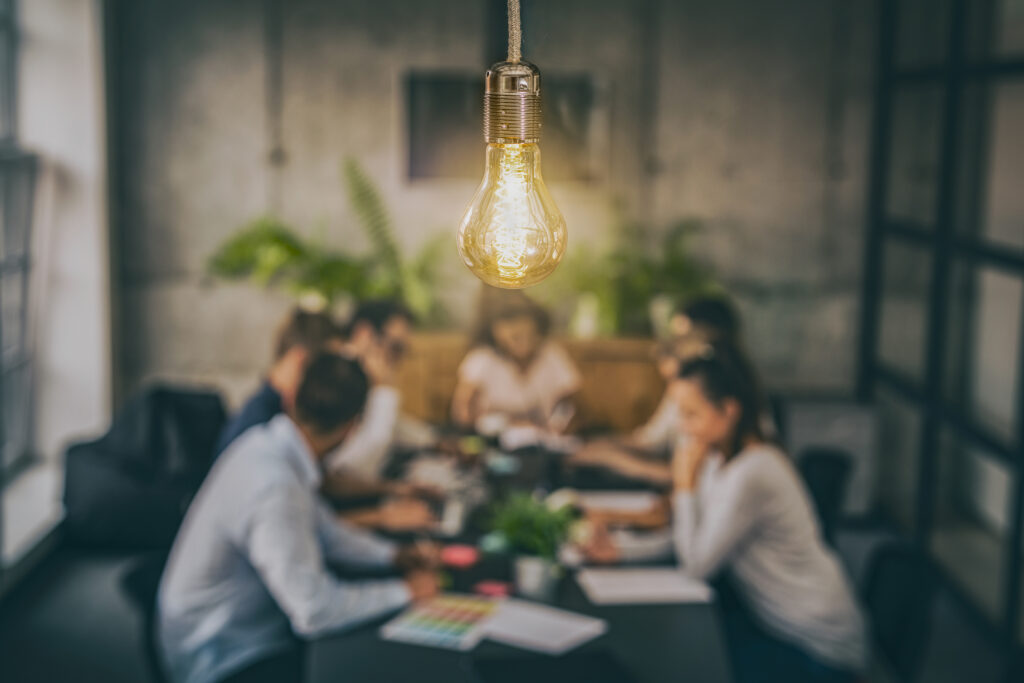 The key issue facing lighting design and set up in the workplace is, of course, that glare/dim balance. Glare is a significant issue for anyone working with PCs or laptops. However, it's also noted that intense, bright lighting overhead will also create eye-straining. Ceiling lights and direct illumination over workstations may seem practical, but they can cause harm over time.
However, dim lights can also cause eye strain. If anything, we should be considering dim lighting along the same parallel as intensive glare. Believe it or not, if your workplace lighting is too dim, you have just as much chance of getting headaches. There are, thankfully, a few ways around this issue.
One clear way is to consider being careful with dimmable lights. There is such a thing as treading the middle ground between bright and dim. That essentially means being proactive with the lighting level and adjusting it when you need to. We will come to this in a little more detail below.
However, consider the temperature if you prefer not to opt for the light-adjustable option. Opt for bulbs and lighting that aren't kicking out immense heat – try and choose a cool glow. The aim is to try and create lighting scenarios that help keep people focused without causing harm.
That's why it is extremely worthwhile planning your lighting as part of any office or workplace design. Again, below, we will consider balance a little further. It is easy to assume one lighting option will offer a standard level of glow. Not all bulbs are built the same, and that's why we strive to provide a vast choice in our online store.
Our ultra-modern double commercial LED suspended strip light pendant, for example, might fit the bill. These fittings hang low but are never intensively applying light to people underneath. What's more, they are easily spaced out and can be fitted with cooler, less intensive bulbs than most.
Working with Daylight
Where possible, working with natural light will always be the preferential option. Desks and workspaces placed close to windows for daylight shifts are likely to keep people happy and engaged. Of course, this isn't always possible, and once the sun goes down, there's a need to replicate natural light. So, how do you manage to replace outside light when it's simply not available?
There are several options available. One, of course, is to consider using fittings and bulbs that emulate temperature and colour. Arrow is pleased to present a variety of commercial lighting options that are highly flexible in this regard. However, setting up lighting in this way can be a little tricky.
You will need to consider when the sun goes down and allow interior lighting to flow through, replacing. Could this mean setting up a timed system? Or, it may simply mean having a setup where you can effectively dim or brighten lights as the dark emerges. Either way, modern bulbs, and lighting now allow for greater flexibility and closer natural mimicry.
This is perhaps all the more intensive for workspaces with no natural light whatsoever. It means making sure you have lighting systems in place that can adjust at short notice. Having interior, artificial light reflect the sun's movement is considered a healthy manoeuvre. Spending hours or shifts at a time in the dark with an artificial glow is hardly suitable for our wellbeing!
Our edge lit 6000k LED panel is a fantastic choice for helping to balance with natural light. Clean, simple, and never intrusive, these gentle light fittings could help make all the difference. As a fully dimmable option, this light fitting is easy to adjust when the sun goes down. We always recommend LEDs for a variety of reasons!
Daylight pouring into your office or workplace is always a good thing. However, it's not always going to be possible. That's why it makes sense to have an alternative, artificial solution ready to go.
Focus on Task Lighting
Task lighting is an excellent option if you want to focus illumination on specific desks and working zones. While ceiling lights are fantastic for overall sight and glow, there may come a need for individual illumination. Task and focal lighting can be fairly similar as they essentially do the same thing.
Ultimately, these lighting standards or options help point out a specific area or need. For those in the workplace, task lighting may be as simple as a standalone lamp or fitting. It may be one that they have complete control over, for example, and therefore adjust when they need to.
Task lighting is a viable option in workplaces that thrive with individual stations. However, setting up standard lamps and lighting options for hotdesking is entirely possible. That said, you shouldn't always depend on desk or task lighting as a standard. There should also be an option for ceiling or hanging lights too.
The focus here is, of course, on balance. Working in a dark room with just a lamp at your desk is not necessarily healthy. In our point below, we will take you through the importance of keeping things even!
Alongside task lighting, you should certainly consider a gentle wall or ceiling light combination. For example, our LED bulkhead 4000k is a fantastic choice. Easy to set up and never overpowering, you'll get a delicate background glow.
This means that even when you switch task lighting off or dim it down, you don't step into darkness. These are high-performance lights that can even be used as task lighting options on their own. Mounted to walls, you could install them at the end of desk rows. Or, you could space them out overhead.
Task lighting is, of course, always likely to be different for various people. Therefore, it's worth considering the individual needs of your team, as well as the type of work you do! However, in most cases, bulkhead lighting is surprisingly effective.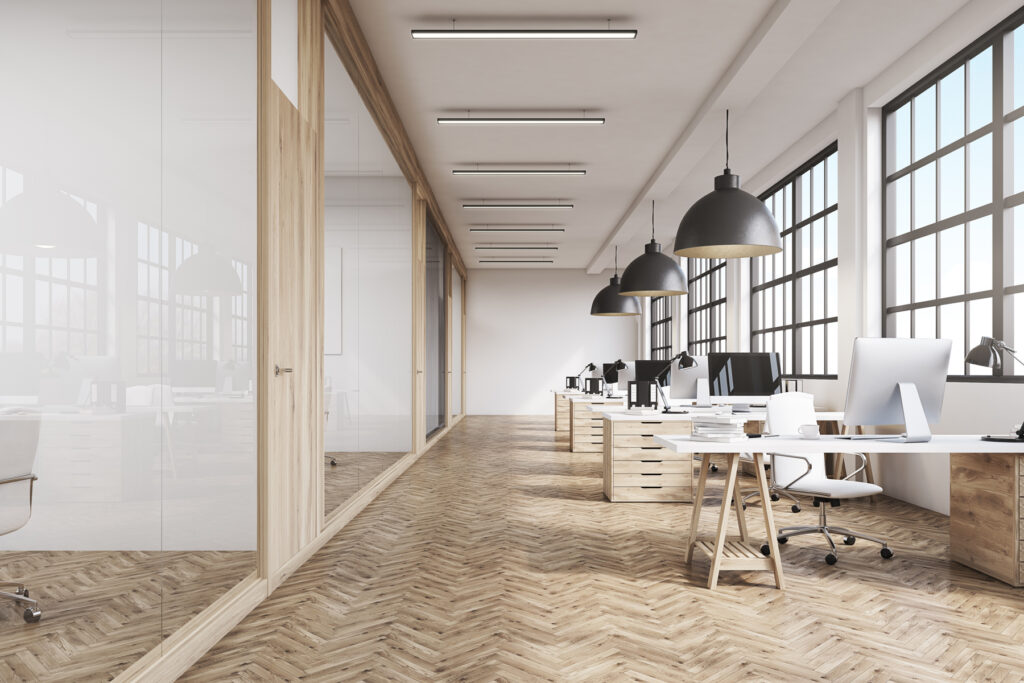 As with lighting modern interiors at home, an even spread is a must at work. Too much intensive ceiling lighting in one bunch will cause serious glare. What's more, you are likely to overexpose certain office areas. This is hardly going to create the best atmosphere or aesthetic!
So yes, balancing light evenly is an aesthetic move as much as it is a practical one. Therefore, again – consider planning your office lighting as early as possible. It may not always be so simple to know how to balance lighting ahead of time. So, make sure to shop carefully and look at photos and mockups online.
Crucially, a wider spread of lighting will also mean less power is needed. It also means lower pricing in terms of buying fittings too. With top-quality lighting and LEDs as standard, spreading illumination is all the easier.
For example, a handful of dimmable, slim, ultra-modern drum lights from our store may help. These low-hanging but low-intrusion fittings are great for helping to keep light spread from overwhelming matters. What's more, with top-line LEDs, you can be sure these fittings give you all the power you need.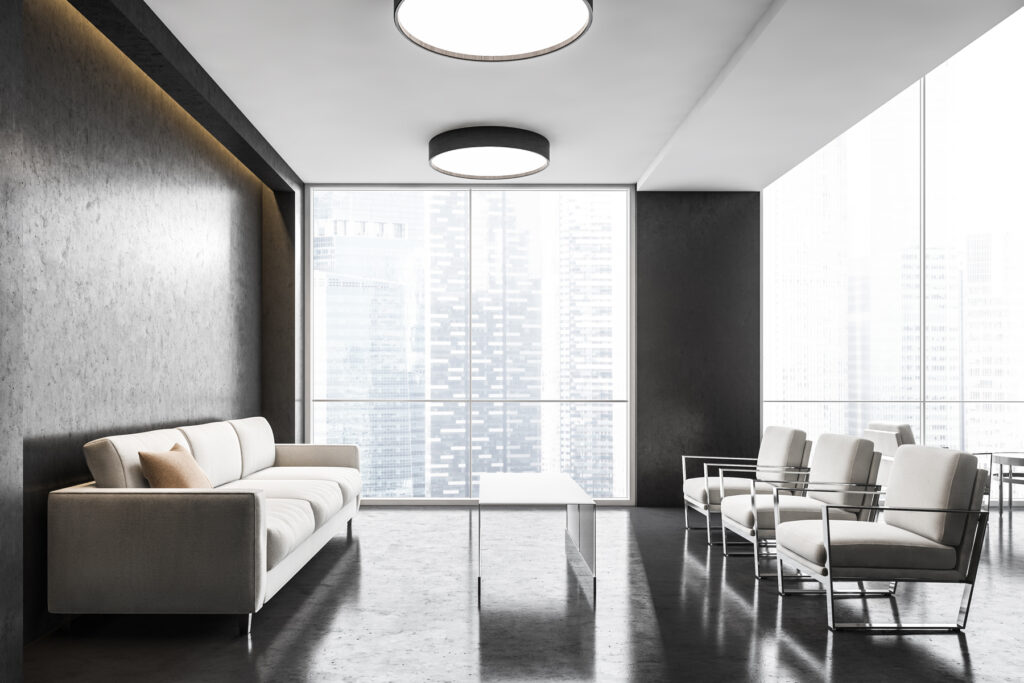 These modern fittings, evenly spaced, can really look the part in workplace settings such as hotels and restaurants. That said, there is absolutely nothing to say you can't complete the look of an office in the same way!
Spreading light evenly does not mean your room or space has to be dark or gloomy. If anything, it will mean that everyone receives the same level of light. This could be a practical, enduring choice, used alongside a natural light plan (where you mimic the glow after sundown).
Even light spreading will, of course, vary from workplace to workplace. Where there is still a need for intensive light, individual task lighting may be the better route to take.
LEDs Lead the Way
LEDs have largely overtaken traditional bulbs and strip lighting ins recent years. The reasons for this should be salient. They are more cost-effective to set up and run and are considered safer. Traditional bulbs and filament options could still burn out or explode under pressure.
LEDs are ideal for the workplace as they endure years of intensive use. While traditional light bulbs and tubes may fizzle out quickly, LEDs persist through constant illumination. Therefore, you could have LEDs set up on timed relays to kick into action when the sun goes down. Or, you could choose an array of colours and glows to protect your team.
When choosing modern office lighting, you will likely come across LEDs as the prime candidate and choice. That's because they are also incredibly flexible and prove to be of great value over time. What's more, as you can see from our catalogue, LEDs come in all shapes and sizes!
Traditional tubes and bulbs tend to be quite intense. LEDs are developed to offer gentle light that is more than adequate at a fraction of the energy used. Therefore, even when installed overhead, there's rarely a risk of feeling overpowered or overwhelmed.
LEDs prove to be great options for working spaces thanks to their sleep protection, too. Yes – believe it or not, traditional lighting can impact how you rest after work. Therefore working under LEDs is likely to bring more rest to your team, thus helping them become more productive.
Setting up and maintaining LEDs for the workplace is also quick and straightforward. LEDs are easy to adjust rather than unscrew complex fittings to replace bulbs. That said, there will unlikely be a need for you to replace these options until thousands of hours down the line.
As office spaces tend to be wide open, LEDs can deliver light and glow across an impressive expanse. While they may seem the 'latest' option, they are here to stay. Simply look at our selection of fittings and fixtures online to see what we mean!
The Light-Work Balance
We all need light to be able to work properly. However, certain kinds and types of light can make us more tired and, in some cases, even unproductive! It is vital to carefully consider all of your options before choosing lighting for your workplace.
Arrow Electrical is pleased to offer various options and standards for home and work. We are thrilled to provide some genuinely stunning contemporary looks and practical solutions. What works at home can often work in the office – so why not keep your options open?
Above all, you will need to make sure your workplace is a pleasant place to be. With the right lighting balance, that's always achievable! Simply browse through our wider catalogue for more inspiration – your ideal office illumination strategy awaits.
Recent Posts
Home lighting is more than just practical. Light can change the way many of us feel from day to day …

No matter the work we do, being well lit is essential! In an office, you will naturally already hav …

Dining rooms serve more than just practical purposes! They are wonderful social spaces for many of …