Dining rooms serve more than just practical purposes! They are wonderful social spaces for many of us, great for entertaining and getting together with the people we love. Therefore, it stands to reason that you may wish to make your dining area look that little bit extra special. Did you know that the dining area is one of the best places to start with the lighting?
At Arrow Electrical, we are, of course, thrilled to offer a wide variety of dazzling, glittering fixtures. Whether modern or classical, an ideal light array for your dining room should be a focal point. That said, you shouldn't draw too much attention away from the rest of your decor – and your guests!
Therefore, we have compiled together a valuable guide to help you plan for dining room lighting with some fabulous ideas. Glance through our top tips below, but as always, do put your own spin on things!
Create a Centrepiece
Dining rooms are always going to vary. Not just in terms of size or furniture, but in terms of style and even in terms of purpose. While some people may use their dining spaces purely as intended, others will adore entertaining in them. Regardless, it makes sense for there to be a centrepiece.
Of course, if you are a fantastic cook, your cuisine may well be the star of the show! However, a stylish, memorable dining room with an excellent lighting point cannot go wrong. A great focal point, for example, maybe a chandelier. Chandeliers no longer need to be classical or outdated – there are plenty of modern options.
It's essential to try and blend your lighting with your furniture, and we will come to this shortly. For now, however, focus on the centrepiece. A bold, stylish central lighting fixture in your dining room will add a great touch of class. Of course, it is pretty easy to overdo things, so consider your aesthetics carefully.
If you don't wish to splash the whole of your dining room in intense light, choose a shade. It's worth enclosing light if you want to create a focal point without it disturbing matters. Otherwise, a crystal chandelier or softly stylish option can still wow your guests without overpowering everything.
Even if you are not too worried about a focal point, a centrepiece light will tie a dining room together. This may be a flush light on either wall. It may be a hanging light or pendant option. Or, you may choose to create a specific lighting zone with flush or embedded bulbs.
The choice is yours. Chances are when you think of a dining room, you likely have a very specific look in mind. Does that look or vision have a large light fitting in the middle? Does it hang low or high above the table?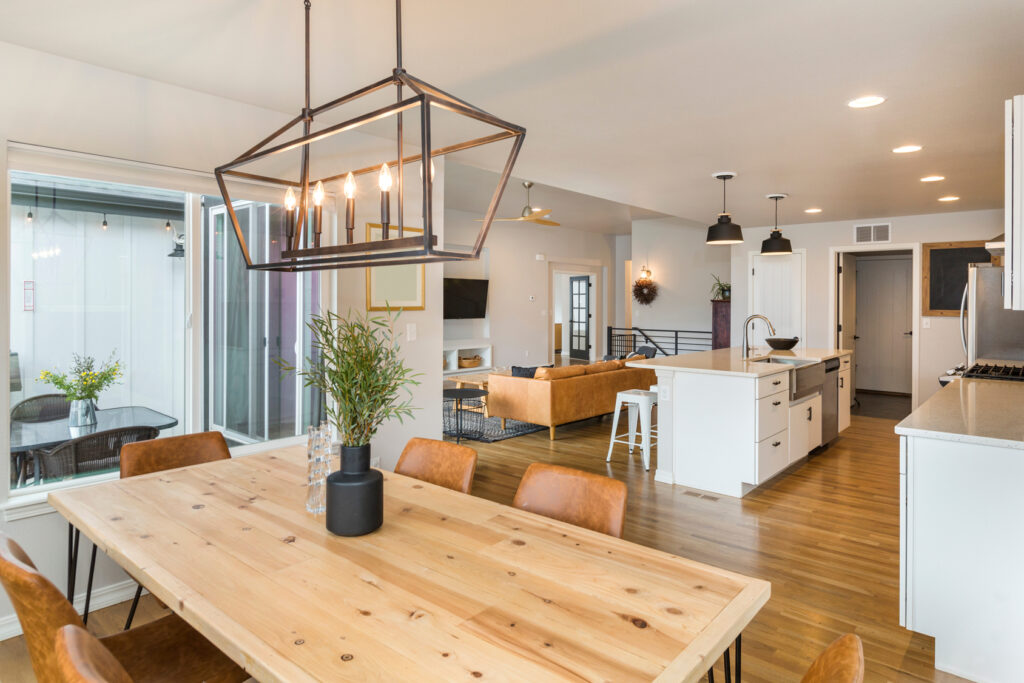 Blend Natural with Artificial
It's a common misnomer that dining rooms are only ever used in the evening. What's more, many people may not think to use their dining rooms for lunches and breakfasts! Ultimately, this isn't a space you should relegate purely to be used a few hours per day. It's a little wasteful if you think about it!
That's why you will need to think about natural light and daylighting, as well as artificial fittings. Chandeliers, once again, can look fantastic at all times of the day. They work brilliantly as set pieces, whether on or off. In fact, our catalogue is full of lighting options that double as ornamental pieces, too.
All things considered, for the most effective lighting balance, bring natural light in as much as you can. You may wish to leave your curtains or blinds open during light seasons. Modern dining rooms that make the most of natural light should have at least a wall of windows. This could be looking out into your garden or patio, for example.
Natural light is harder to come by once December rolls around; however, consider it. A great way to balance natural and artificial light is to have your interior lighting kick in when it's dark. There are ways to automate this (and your blinds, too!) – but dimmer switches may keep things simple.
Simply dim your dining room lights in when the dark starts to seep in through the windows. Gradually transition the space so that the light is always on balance. This is not easy to do manually – all of the time – which is why some people choose automation.
Ensure to use natural light when available and fall back on interior lights when necessary. This should avoid creating or causing any unwanted effects or intensity when it is not needed.
Reflections Matter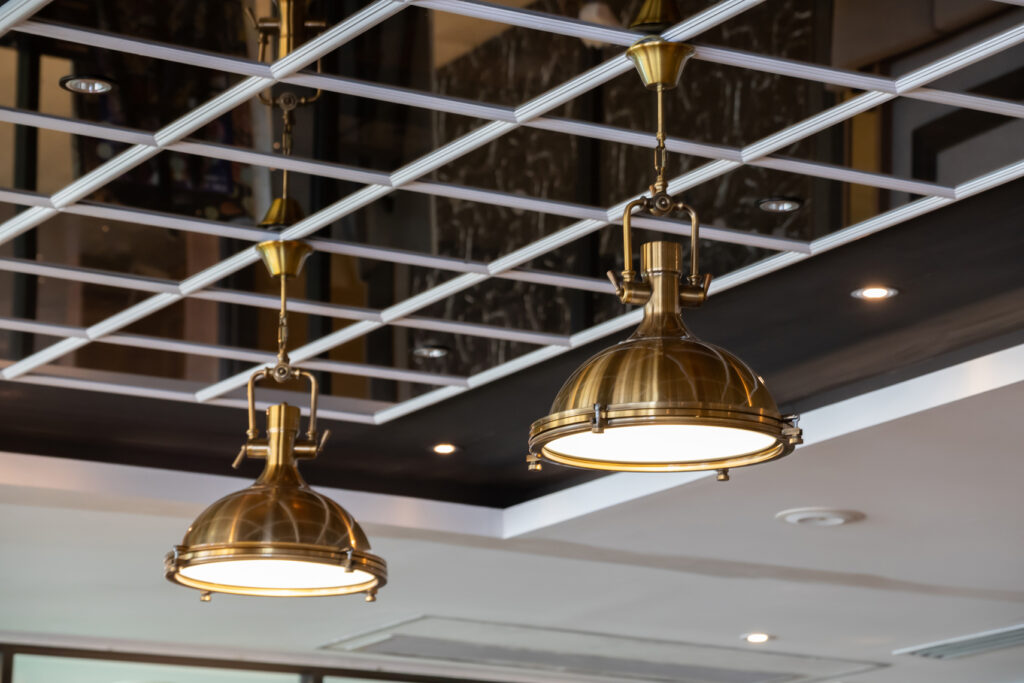 We've discussed the popular art of using mirrors and reflected surfaces to increase a room's apparent size before. However, the effects that reflective surfacing can have on lighting are nothing short of incredible. In a dining room, you will likely already want to create as large a space as possible. Why not enhance that by matching lights with mirrors?
Of course, this is a beautiful art to master, as too many lights can spoil the aesthetic. Lights bouncing off multiple mirrors can cause a dazzling effect that's all too distracting. Therefore, just as you'd be careful to balance your furnishings and colours in your home design, balance lighting, and reflection. Single ceiling light or chandelier, again, can often be enough.
With a single chandelier and a series of well-placed mirrors across a room, your light will effectively travel further. You may wish to position a mirror on each wall to enclose or on two walls only if you have a smaller space. Alternatively, you may want to avoid mirrors altogether and focus on reflective ornaments and furnishings. The choice is – naturally – always going to be yours.
Of course, mirrors don't always fit every dining space or interior design. Therefore, if you have a specific theme in mind, don't necessarily eschew it for the sake of reflection. Take a look at design and layout ideas online for further inspiration and consider a lampshade or chandelier that reflects.
Of course, you may also wish to avoid light travelling too far in the first instance! If you want to keep lighting to a minimum, mirrors are unlikely to help you. If you wish to create a dining space that is gentle and cosy, keep your lighting low and subdued. Your choice here may ultimately depend on what you'd like to use your space for – more for entertaining or practicality?
An excellent choice for dazzling reflection in the dining room may be our round, black paint crystal chandelier. This option blends modern, minimalist colour with the luxury and shimmer of crystal – a great match!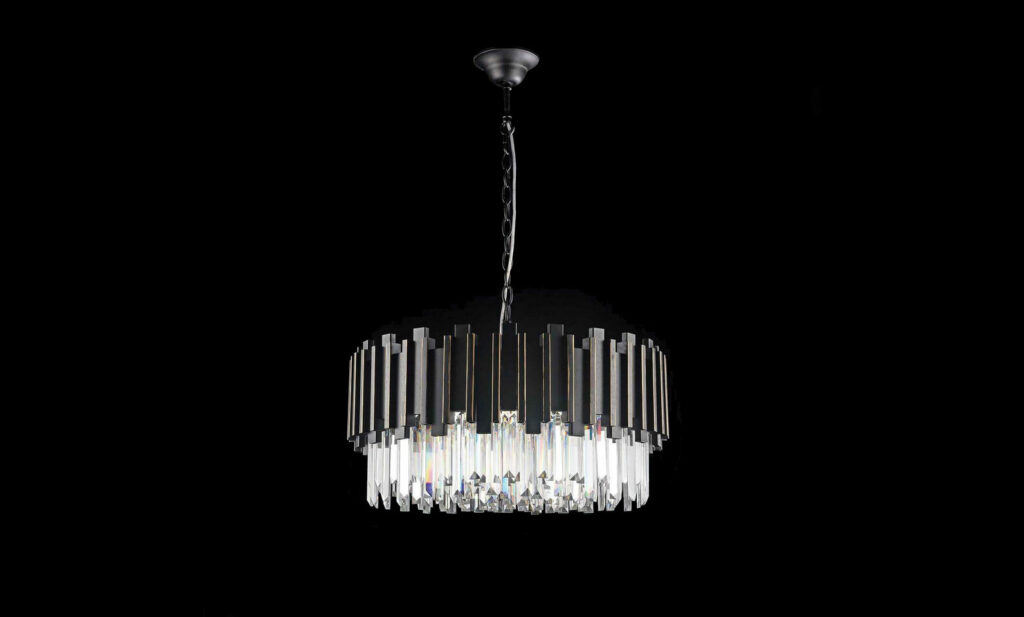 Match Lighting with Furniture
This may seem a reasonably salient step at first, but let's consider all angles. The best lighting choice for your dining room should complement your existing decor – unless you wish to contrast intentionally. 90% of the time, however, matching and blending creates an altogether more satisfying effect.
Did you know, as an example, that it is worth analysing the size of your light fixture compared to your table? Bigger tables, on the whole, can demand bigger fittings. However, this will also depend mainly on the area you have available in your dining room, to begin with. Consider making your light fitting around a foot smaller, all around, than the table it hangs above.
Be careful not to have your light fitting interact too closely with your furniture. Too low a hang will create a crowded and cramped look. What's more, it will mean bringing direct light too close to your guests' eyes! Don't be afraid to install a larger light fitting up on high, for example, than down low.
You should also be careful to choose a colour and material for lighting that complements your room. A glitzy chandelier, for example, may not look the best in a minimalist space with plain colours. In a room of ornate touches and furnishings, simple light fittings may not create the focal effect you desire.
While it does make sense to have your light fitting be the centrepiece or focal point, think carefully. Try and design your space first, and then choose your ideal lighting.
More opulent and sophisticated dining room spaces may benefit from our chrome crystal chandelier (pendant mount). Modern and stylish, this choice of fitting is versatile enough to blend with many furniture styles. No matter the wood you choose nor the colour scheme for your space, hang high and let light glitter down.
Other Points to Consider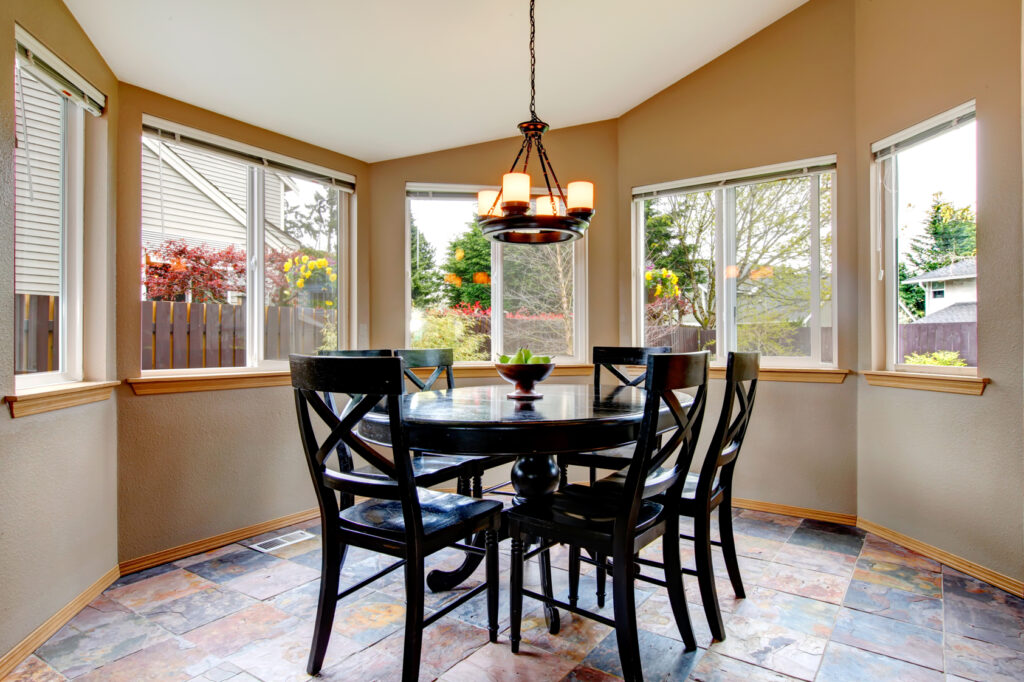 Dining rooms can be surprisingly complex when designing and decorating from scratch. So, here are a few further ideas and points you may wish to keep in mind.
Choose a theme, and stick to it. You can be as creative as you reserve, but if you blend too many styles together, clutter is easy to risk. If you ever wish to change themes and styles, you may have to start from scratch.
Build the room from your chandelier or centre lighting outwards where you can. As mentioned, you should ideally design the whole of your space first. However, if building or dressing from scratch and you have a specific light in mind, let it inspire you.
Choose simple, delicate lighting touches if you have an open-plan space. Don't be so quick to overstimulate an open diner with too many fittings or bulbs. Light travels further when walls are not in the equation, so spread it out as much as possible. This goes as much for dining rooms with French windows, too.
Don't ever feel you have to choose a hanging lamp or chandelier. While they are popular choices and make for the best centrepieces, flush and spot lighting can also work well. This is absolutely the case if you wish for your dining area to be more enshrouded. They also work well if you have an abundance of natural light flowing into your space daily.
Dining rooms can be romantic spaces, so make a point to create a cosy, close effect with your lighting. Your choice here may vary as many people use dining spaces for entertaining. However, if it is just the two of you, choose simple lighting that's intimate and never intrusive.
Do also consider the colour and brightness of any bulbs you use. LEDs are must-haves. However, you may wish to change the tonality from season to season. There is little point in relying on the same bulbs when temperatures and weather change so much.
Above all, it's your dining room – think creatively and don't always follow a set pattern.
Conclusion
Dining room spaces are some of the biggest focal points in homes across the UK. They can be stylish and minimalistic, but above all, they should be welcoming. Much of this falls down to lighting – perhaps more than you may imagine.
Moreover, it is always prudent to consider centrepiece lighting as a priority. If you will use your dining room as the central space from which you entertain guests, make a show of it!
If, however, you are more likely to use a dining space for practical purposes only, you can be more flexible. Consider setting up intimate lighting if you intend to use it for romantic dinners. What's more, be careful with natural light – use it to your advantage if you want to use your space during the day!
Arrow Electrical is pleased to offer a large variety of light fittings and styles to suit any dining room. Click and look at our top picks in this guide, and do reach out if we can help you further.
Recent Posts
Home lighting is more than just practical. Light can change the way many of us feel from day to day …

No matter the work we do, being well lit is essential! In an office, you will naturally already hav …

Dining rooms serve more than just practical purposes! They are wonderful social spaces for many of …