Are you considering enhancing or dressing up your interior spaces with specific lighting options? In many cases, wonderful low level lights may be just the ticket. However, with so many of us accustomed to low handling lights from above, it can take some adjustment. Moreover, there are more than scarce ways through which you can transform your space with professional low illumination.
Here at Arrow Electrical, we ensure to provide a vast array of different home and garden lighting options. Whether you are just looking into low level lighting or are considering changing up your fittings, we're here to help. In this guide, we'll take you through the ins and outs of this style of illumination and will share a few of our favourite products.
What is low level lighting?
Low level interior lighting refers to the type of light that comes from lamps or bulbs placed at or near floor level. This type of light is often used in retail stores, restaurants, and other commercial spaces where customers stand or walk around. However, it's very quickly emerged as a popular choice in home interior design, too.
When used in some cases, low level lighting adds depth and dimension to a room by creating shadows and highlights. These effects create an illusion of space and volume. Low level lighting is used for many reasons. It may be used to save energy or reduce glare from windows. In some cases, it may also be used to create an ambience.
That said, they are generally used directionally, helping to embellish walkways, corridors, and specific rooms. It's likely a good idea to rely on a blend of lighting choices.
Low level lights can arrive in various shapes, sizes and forms, and installation types. For example, accent lighting is typically used around bookshelves, tables, coffee tables, etc. Recessed lighting is great for illuminating small sections of a room, ideal for lighting corners.
Low level lighting can also be extremely low in profile too. For example, a great wall light option in our catalogue is our dimmable, small square recessed LED. This installation is available in several different colours and finishes and can adorn and establish skirting boards, panels and more.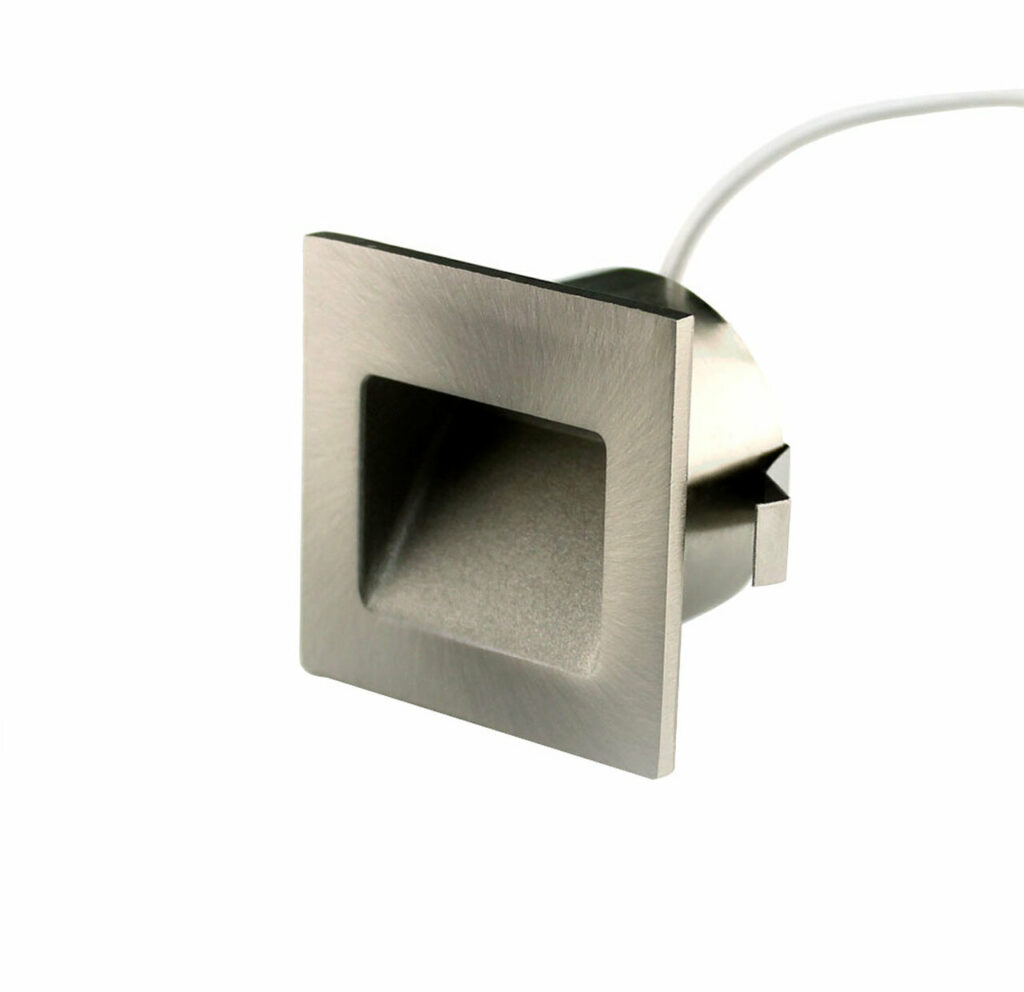 Low level lighting is also highly sought-after for its sophisticated and luxurious appeal. This is, of course, part of the appeal for public businesses such as those in the leisure industry. You may have seen runs of low level lights in cinemas, theatres and hotels across the years. There is something eminently 'special' about a walkway adorned with low level lights.
Of course, these lights also carry practical purpose and aesthetic appeal, as mentioned. They can add depth, bring out architectural touches, and even help change the atmosphere of a space. It is all.
Where might I use low level lighting across the home?
It is, of course, entirely up to you where you install and use low-level lighting! You may choose to install them along or above a skirting board in a hallway or corridor. Or, you may choose to set up recessed lights along your staircase, step by step. In both cases, these low level lights can help to guide people safely to where they need to go.
However, you may also wish to use them in communal or entertaining spaces such as a lounge or cinema room. If your primary room illumination is switched off and you rely on ceiling spots or sconces, low spots can add to an atmosphere. We've mentioned the 'cinema' effect – adding some low level LEDs could help to recreate that luxurious walkway aesthetic.
You should, of course, consider using low level lighting wherever the atmosphere is a must. In some cases, they can be used as task lights, though this is rare. Consider using low level lights in bathrooms and wet rooms, for example. When you want to unwind in a bath or spa, low lights can help to frame a laid-back atmosphere.
Some people also use low level lights to create romantic atmospheres, too. They can be commonly installed in dining rooms, bedrooms and private suites. Given that they are low on intensity, a few well-spaced low lights can help decorate without glare. Crucially, if you require more practical lighting, it is best to consider hanging pendants or sconces.
Of course, you can also use low level lights outside! Many people choose to install low level spots and lamps to help illuminate decking walkways. This is not just for aesthetics but also your safety in the dark.
Regardless, it makes sense to look for low level LEDs that are flexible and attractive all the same. Our matt black recessed wall light, for example, blends in with a shallow profile. For lighter walls and spaces, there's also our matt white LED wall light, too. Both blend into your design yet stands out as required.
What are some creative ideas for low level lighting?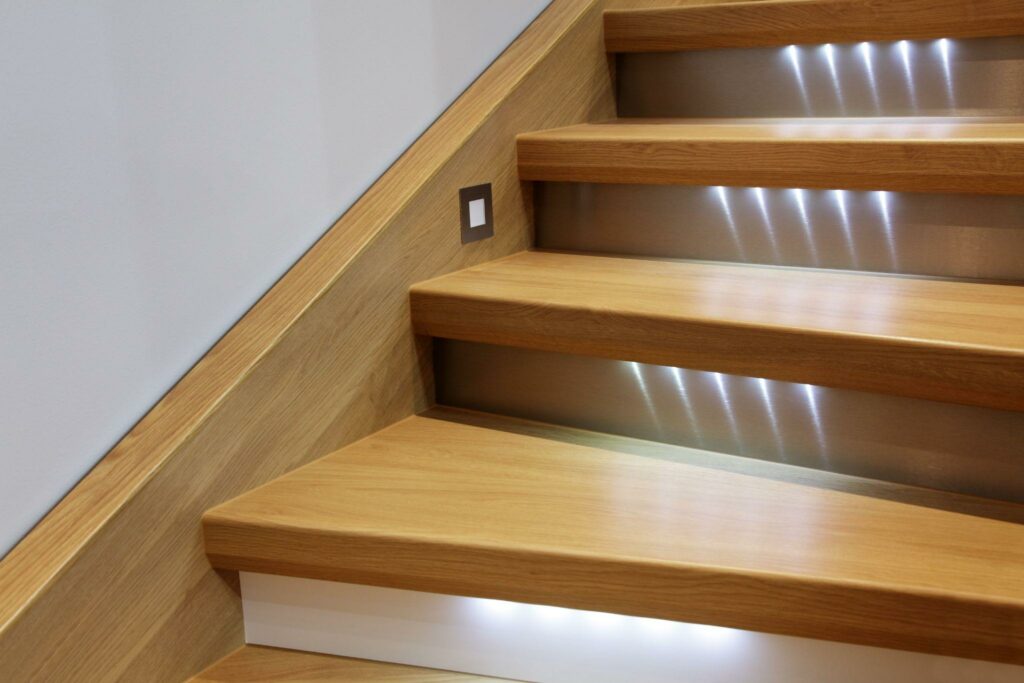 If you are considering low level lighting for the first time, it pays to be creative. A wealth of visual inspiration is available online (via social media such as Pinterest and Instagram, for example). However, it sometimes pays to reach out to an expert who can help you with a few ideas.
For example, you could use low level lighting to highlight architectural features. You can also use low level lighting in conjunction with accent wall paint colours to make a feature stand out. Given that we have various low level fittings in many finishes and shades, this may be worth consideration.
You could also use low level lighting under cabinets and appliances to make them appear larger. This is just one practical side-effect of a low level light put to great use. You don't necessarily have to see the bulbs directly to feel the full effect. They can help to draw out shadows and make certain features stand out.
You might not think about highlighting your refrigerator or specific cupboards, but consider how your kitchen currently appears. Is it lacking focal points? If so, it may be more space and cost-effective to highlight what you already have. It's surprising how much low level illumination can change matters.
In some cases, you can even use low level lighting indoors to make rooms seem smaller. You could create a more intimate feeling of closeness in private spaces by placing LEDs low down. Of course, your own needs will vary – and much will depend on the styles of low level lights you use.
Low profile lighting, such as our downlight bulbs in matt white, can provide a delicate glow to wide and tight spaces alike. Recessing lights in this fashion makes sense, too, if you want to reduce physicality. Recessed low level lights take up minimal footprint as they work flush with the surface they install into.
As such, if you are considering using recessed low level lighting for the first time, ask for expert opinions. It can be a big change for some homeowners!
Does my home need low level lighting?
As low level lighting tends to be an aesthetic choice over a practical one, 'need' may not be the best word to use. That said, in some cases, you may find it difficult to highlight certain focal points. What's more, in tighter corners or along lengthy corridors, you may find that you are 'missing' something from your decor.
One of the best things to remember about low level lighting is the fact that it is low risk, too. Installing low level LEDs does not take much in the way of work or alteration. In addition, you can easily configure and use them however you choose from day to day. As you've seen from our catalogue samples, there are low level bulbs that are dimmable.
This means that while your room may feel dazzling and luxurious one day, it may be sombre and gentle the next. There's an incredible level of flexibility in low level illumination thanks to its profile. Changing up the intensity and look of a low level bulb is unlikely to be detrimental to your space. That's partly due to the fact that your room may not be entirely dependent on them!
Moreover, we all have different tastes and ideas regarding what 'looks good'. However, the smaller and less conspicuous the fittings are, the more flexible your options. For example, our dimmable, round recessed wall light is tough to spot unless it's switched on! If you are unsure of the fitting or shell, you like best. Then this may be a safer option to take.
Many people invest in low level lights for the safety aspect. It is true to an extent that hanging lights and lamps can only ever wash over so much. For example, in cases where you have a steep or complex staircase, low level, recessed lighting may be assets. In fact, these are highly popular applications for these bulbs.
Is low level lighting the future?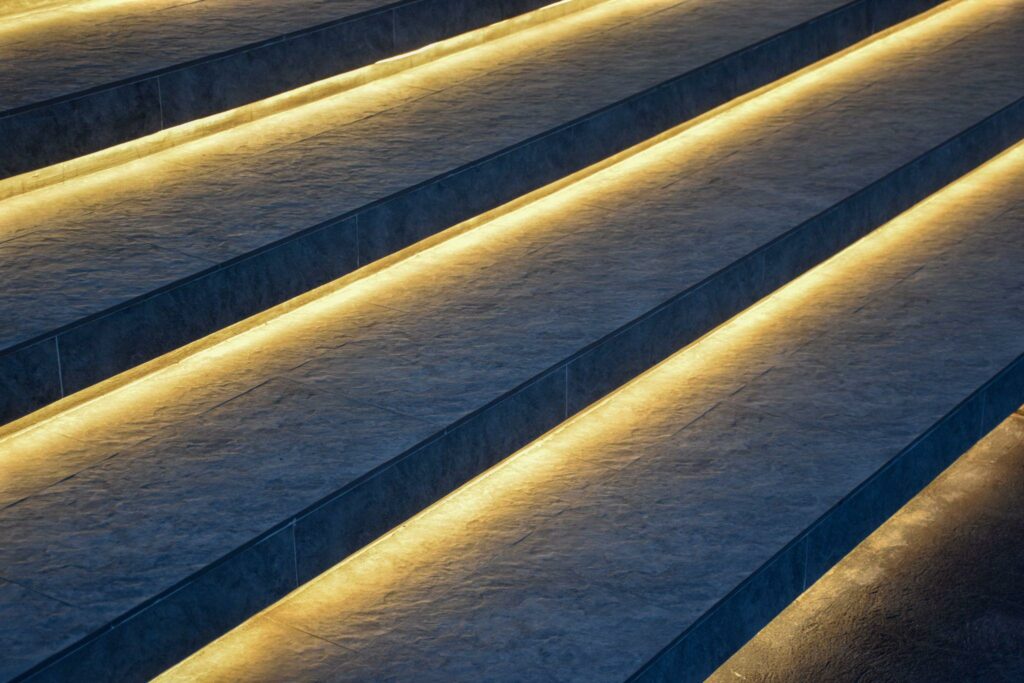 Lighting from below is nothing new or trailblazing. However, it is emerging as a leading standard for homes in the new 20s. They are invaluable for those homeowners looking to highlight or draw out architecture or create an atmosphere. Some may overlook them, of course, as they do not offer the same practicality as wider-reaching fittings.
If there is one theme still proving popular in the modern age, it is that of clean design. One of the huge benefits of using low level lighting is that you can generally hide it out of sight or align it with the architecture. Whether under cabinets, on steps or recessed into walls, these fittings add more than they subtract.
To be clear, there will always be a risk when changing up your lighting options. If you have never considered low level lighting or recessed options before, the change can be stark. However, as mentioned, one of the inherent benefits of these solutions is that they are flexible.
This falls in well with current home interior standards of a property 'working for you', not the other way around. Our modern spaces offer comfort, style and practicality with little demand or oversight. Smart home devices are helping to make things hyper-convenient. With low level lighting, dimmable in LED, it's convenient to create multiple atmospheres as and when you wish!
It's difficult to say that low level lights will ever overtake chandeliers, sconces or other types of home lighting. Here at Arrow Electrical, we, of course, make sure to offer as many different options as possible! However, low level light options are fast helping people to bring the luxury illuminations in public services home with them. Low lights may not make much of a practical mark, but you certainly notice their charm.
Our simple mini 3w fixed dimmable LED downlight, for example, is flexible and low in profile. These options can be fitted in various ways across your home – up and down. Why not take a closer look?
Conclusion
In summary, low level lighting may be what you are looking for if you wish to create or build an atmosphere. For luxury touches, to highlight elements in your design or build – low profile LEDs can dim, too, for unlimited flexibility. You can also use low level lighting to help lead the way – to protect on stairs and in corridors.
Arrow Electrical is pleased to provide LED installations that can help you create that perfect low light display. We've shared some of our best-sellers in this guide to help inspire you. Why not take a look at other recessed and simple LED fittings you could use to create a whole new look? Let light be part of your decor – not just a practical asset.
Recent Posts
Whether work, rest or play, we all need light. In office spaces, retail settings and public buildin …

What are driveway bollard lights – and how might they help enhance your outdoor space? Whe …

Are you considering enhancing or dressing up your interior spaces with specific lighting options? I …