What are driveway bollard lights – and how might they help enhance your outdoor space?
When it comes to protecting a driveway and/or garden, there are various options available. Of course, here at Arrow Electrical, we recommend using a plethora of lighting solutions. After all, security lights can prove to be fantastic deterrents against criminal and anti-social behaviour!
However, there are also a handful of solutions to set up physical blockades and lighting together. Driveway bollard lighting is a great example. While many people may not think of bollards as an immediate choice for protecting their driveways, they are growing popular.
At Arrow, we provide a selection of hard-wearing driveway bollard lights to help illuminate the way. In this guide, we'll explore why these installations might give you that little bit of extra security, too.
Are Driveway Bollards Important?
Driveway bollards are very important if you want to keep your home approach private and secure. Unfortunately, if you have a large or convenient drive, there may be occasions where people use it without consent. Of course, this may be the case if you do not have a gate system in place. Driveway bollards are much like those you find in public spaces such as car parks and outside public buildings.
The important thing to remember with private driveway bollards is that many are permanent. However, some are telescopic and can be unlocked too, naturally, allowing you access to and from your drive. For example, you may choose to set up your bollards if you have arrived home. Or, you may wish to set them up once you've left for a weekend.
Ultimately, driveway bollards on their own can be essential facets of home security. As well as preventing vehicles from accessing your drive, they can also act as deterrents. While they may suggest an occupant is away from home, that's not always the case. In addition, it is worth noting that driveway bollards show you are serious about security.
Of course, these security posts are not to everyone's taste. Thankfully, they arrive in various styles and setups in the modern age. That said, some homeowners may not wish to create a solid perimeter with them. Even collapsible bollards can offset an established look or design for your garden and approach.
As such, it's essential to consider your needs. Driveway bollards are highly recommended if, for example, you wish to give your car or vehicle additional security. It's also a great measure against general trespass, alongside external security lighting. The deterrent to criminals is also high because trying to break through bollards is time-consuming (and possibly painful!).
What is Driveway Bollard Lighting?
As the name suggests, driveway bollard lighting combines security light and post solution. Outdoor bollards with lighting built in are sleek, stylish, and made to last. For example, our KL1202 range of black outdoor bollards prove highly popular. They offer a delicate lighting touch in a timeless colour and finish.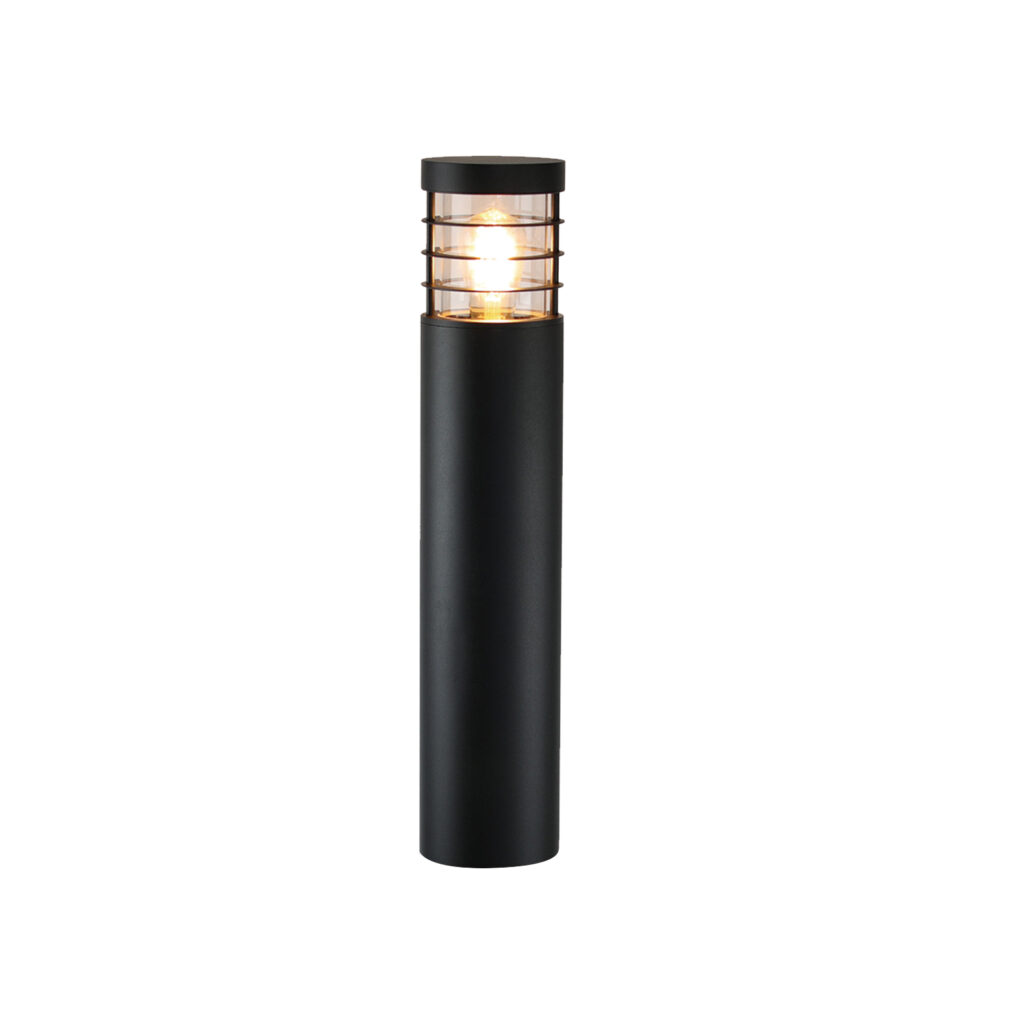 Driveway bollard lighting takes the principles of basic bollards and adds lighting into the mix. Instead of relying on external lamps, hanging bulbs or posts, your illumination is taken care of. For many people, driveway bollard lights take two problems away in one fell swoop.
Driveway lights are essential to ensure that you can see your home properly in the dark. You may be leaving or arriving at your driveway, for example, and may not have lighting otherwise set up. While it's always a great idea to have some form of outdoor security light set up for safety, bollards go the extra mile.
As with standard driveway bollards and posts, lighting bollards can be telescopic, meaning they will contract. This means that you will not have to set them up on a permanent basis. Again, the reasons behind this are for practicality. How else can you expect to use your driveway if there are posts in the way?
It's worth keeping in close mind, of course, that not all driveway bollards are collapsible. Some are permanent. This means it's never a good idea to install them at the end of your drive if you intend to drive on and off it! However, you can use them, of course, to line your drive and offer direction.
One of the best reasons to invest in driveway bollard lights is for the sheer array of looks and styles available. As mentioned, our black KL1202s are popular thanks to their stylish, neutral blending. However, there are many more looks and styles available in our catalogue, too – so don't feel you have to settle.
Can Driveway Bollard Lighting Protect a Property?
As much as driveway bollards, in general, can protect a property, yes, lighting bollards can do the same. In fact, with the addition of built-in bulbs, you have a little extra assistance in deterring criminal behaviour.
Bollard lights can help to show that there is a private driveway up ahead. This is effective in helping to encourage drivers to turn around, for example, if heading into a cul de sac. It also gives off the message that you are likely home and don't appreciate driveway thieves!
It's also worth noting that bollard lights can act as fantastic safety installations. These posts work well as warning points for drivers as well as deterrents. For example, anyone driving in the dark (headlights on or not) may struggle to see standard bollards. To avoid accidents entirely, lighted bollards can and will ensure that people refrain from crashing.
This is just as much a point of safety for them as it is for you. Warding people away from having an accident at your property will prevent damage and unforeseen costs. Crucially, you can use driveway bollard lights as additional security lighting points to keep people away. Think of them almost as miniature lighthouses – with your home being the precious rocks!
Driveway bollard lights can protect properties and vehicles alike. However, they are just as much in demand because they can help keep driveways private. As mentioned, if you find that your drive is highly desirable for neighbouring local motorists, then protect it! Warning signs and notices, unfortunately, will only do so much.
Driveway bollards will also help lead the way and even protect your garden, too, if you install them along the route. Many people also use driveway bollard lighting in their gardens too. They're great for framing a space and to act as additional security and safety in your backyard.
Where Should You Place Driveway Bollard Lighting?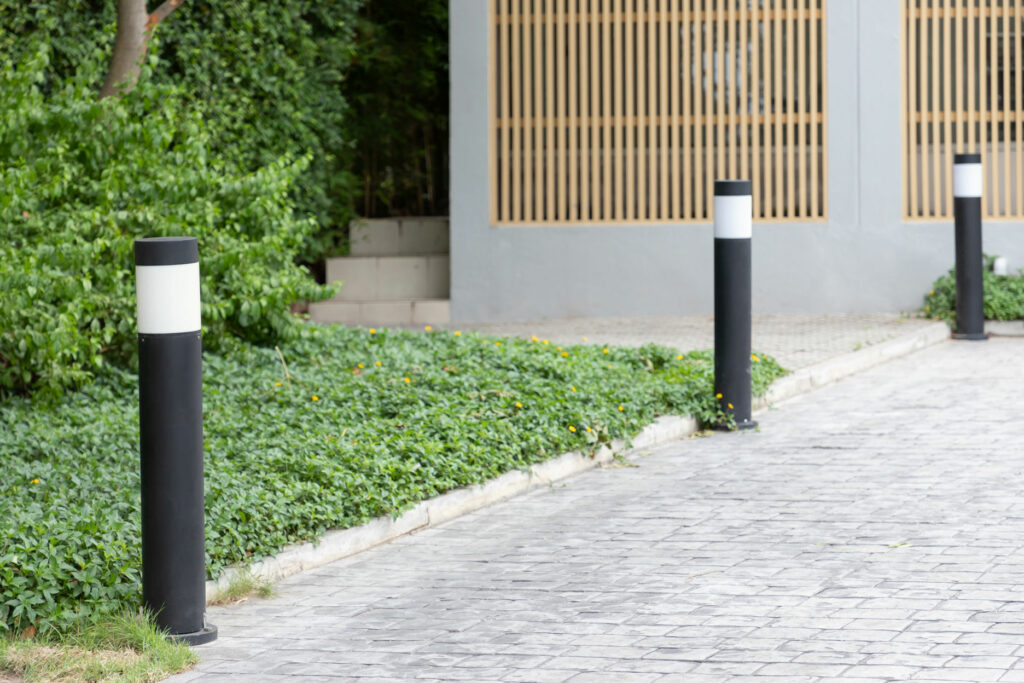 As mentioned, it's entirely reasonable to install lighted bollards in your gardens or around patios. The more is usually better when security is concerned. Moreover, it's generally a good idea to use them to protect your drive. The clue is in the name, of course!
Driveway bollard lights, much like general bollards, will do fantastic work lined up at the entry/exit points of your drive. This means that you are effectively blocking your driveway as off-limits. What's more, you're also ensuring that your car or other vehicles are parked away safe from accident.
Therefore, as you might imagine, you're going to need to install your bollards, so they are close together. This is so that a vehicle can't gain access to and from your drive without your say-so. Generally, it's recommended that you set up a 1.4m gap between each bollard.
This spatial arrangement should give you a tight enough perimeter to stop wide vehicles from gaining access. Any wider, and there may not be much point of setting them up at all! However, remember that this arrangement is ideal for non-permanent or telescopic bollards. These fittings can be unlocked and pulled out when you want to use your drive.
That said, the 1.4m gap is a great starting point if you are purely lighting the way. For example, our ultra-modern 12w LED bollard lights will add to a lovely outdoor glow without glare. There's a balance, of course – too close together, and they will overpower your drive.
That's why it's a good idea to measure your drive in full and compare the measurements of lighting bollards. While window shopping online, be sure to take note of the sizes and dimensions of the bollards you're considering. That way, you can easily plan your setup and display without making any awkward mistakes!
Of course, the way you set up and arrange your lights is up to you. Look at your existing setup – if you have a long drive, consider bringing several close together to lead the way!
Are Driveway Bollard Lights Right for Me?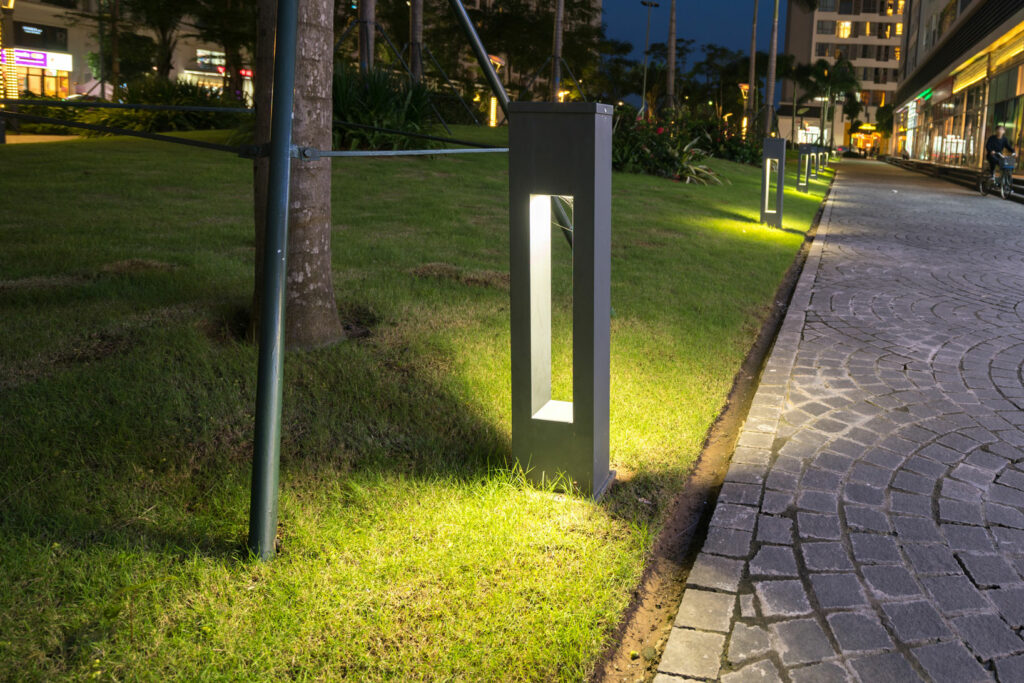 Driveway bollard lights are popular with homeowners for a few reasons. The first reason may not be related to security at all! Bollard lighting options are often robust and weatherproof, meaning they will look great from season to season. Beyond this, they look stylish and attractive both in the dark and daylight.
There's also the fact that you'll receive just enough glow from a fantastic bollard light solution. Our 12w matt grey dome bollard lighting, for example, illuminates gently through energy-efficient LEDs. Never washing over your entire space, you can space out these bollards to highlight specific spots. You can also rely on them to lead you up to your drive without overwashing with light.
However, do take your time to consider these installations carefully. As mentioned, permanent bollard lights are just that – they are fixed in place. This, of course, can mean they are not as flexible as telescopic solutions. Therefore, be careful to ensure you have the space you need to arrange them around your drive or garden.
Driveway bollard lights are fantastic if you want to protect a garden space and/or let the light lead the way. If you have a very long drive up to your home, you are going to need more than headlights alone to ensure safe passage. Bollard lights can provide support in low light for you and your visitors.
Whether or not your bollard lights are permanent, they can still also act as deterrents. This is because they can give the illusion of you being at home even when you aren't! This is undoubtedly the scenario when you have a long drive and want to give this impression from a distance.
There's also the fact that bollard lighting in the modern age looks fantastic. Our contemporary lights can blend with almost any style and shape of drive or garden. Black, steel or otherwise neutral finishes will give way to gentle illumination after dark. It's a great way to add an extra atmosphere to any outdoor space.
Conclusion
Driveway bollard lighting may not be the first choice many homeowners consider when lighting external spaces. However, they are fast becoming popular with large and smaller driveway owners alike. What's more, they are infinitely versatile for use in gardens of all shapes and sizes.
At Arrow, we provide a wide selection of different styles and fittings. The focus for us, of course, is on the light. That's why you'll find a host of LED solutions that are low on energy but high on practicality. Bollard lights offer security, guidance and additional atmosphere – all in one package.
There's also nothing to say that you can't have outdoor lighting already set up, either. At a relatively low level, bollard lights are unlikely to interact with bulkheads at your door, for example. Therefore, there's never any reason to avoid them for concerns over clashing or glare.
Of course, some solutions are permanent. In which case, we recommend you think carefully about your ideal choice. As always, the Arrow team is here to help you find the perfect fittings for your drive and/or garden. Be sure to call or email our team for advice whenever you need it. It's time to start lighting up your home approach – and the best bollards can help.
Recent Posts
For all they are relaxing and practical in equal measure, bathrooms can be very particular! This is …

Whether you are an artist or simply an art lover, showing off your favourite pieces makes sense. Ho …

Our bedrooms are perhaps our favourite rooms – for many of us, anyway! It's a private getaway …