If you have ever spotted an industrial light or lamp fixed to an outside wall before, it's likely a bulkhead. Bulkhead lights have been around for decades – and have a great history behind them. However, even in the modern age, they continue to appeal to homeowners all over the country. But why is this?
At Arrow Electrical, we are pleased to present a considerable range of CCT and IP56 bulkhead lighting options for the home. Primarily designed for use outside, some homeowners are even bringing them into the building, too!
In this walk-through, we will look at precisely what bulkhead lighting is and why it might be an excellent choice for you.
So – What Are Bulkhead Lights?
In years gone by, bulkhead lighting actually had more of a place in industrial settings. That's where the bulky, heavy-duty look comes from. Essentially, the original bulkhead lights of old were designed and manufactured to withstand the elements. That means they were generally rated to keep working in the face of water, dust, and general wear and tear.
Bulkhead lights were commonly found in warehouses (and still are). Not only that, but you'll still see them used in maritime settings. They've been instrumental in helping to efficiently light up and protect boat hulls and more besides. However, as you can see, they've made their way to the home market pretty efficiently, too.
The bulkhead light is considered not only hardy and durable but also highly quirky and stylish. A bulkhead light is likely to blend in well with industrial aesthetics for apparent reasons. We'll cover this in a bit more detail a little further down.
Bulkhead lights are made to an exceptional quality standard. They are primarily encased to protect against damage and weathering (like our stylish Casa Outdoor Wall Light). However, they are also used to create a stunning series of lighting effects, particularly for external areas.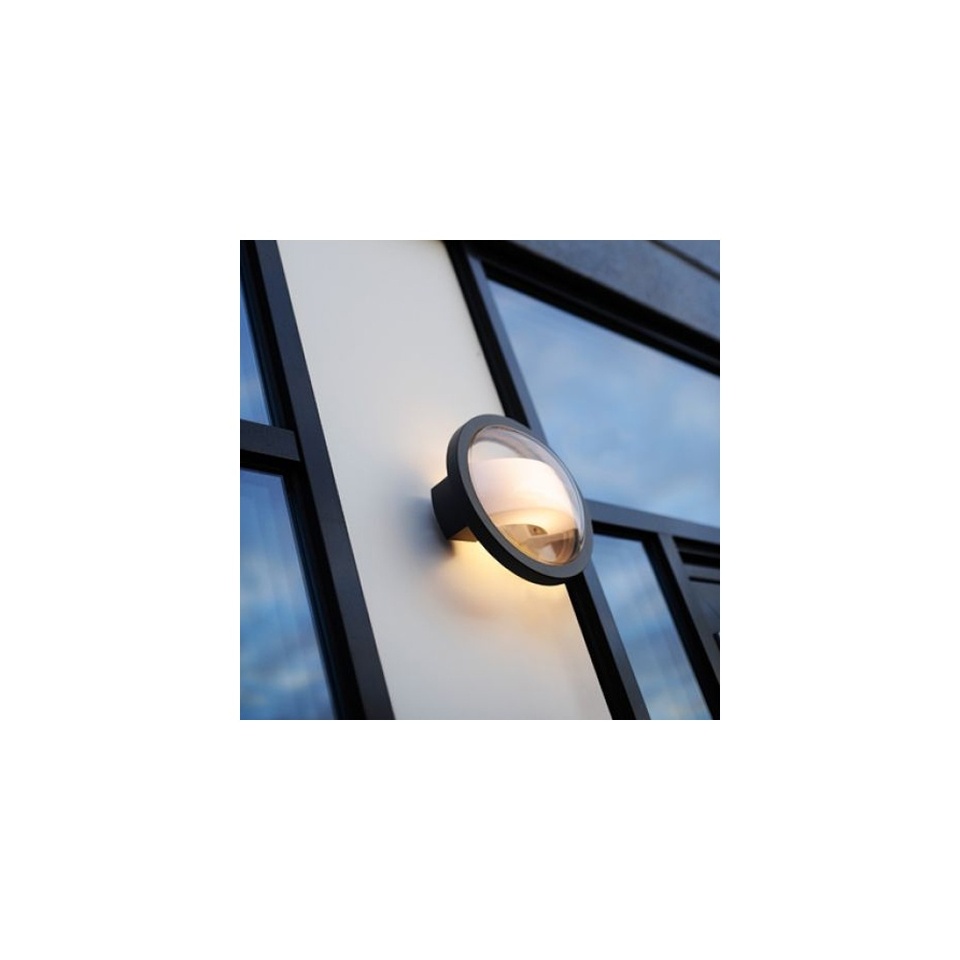 What's more, bulkhead lighting provides an immense amount of illumination. This is one key reason why they are so popular for gardens and outside walls. Some people may use them to help create an illuminated path, while others may want the extra security.
Bulkhead lights also fix directly to your walls, meaning they won't take up ample space where you may need it. Modern and industrial style exteriors alike benefit from bulkhead lighting as, by and large, it blends perfectly. Bulkhead lighting can look superb from a distance and can also add incredible value.
However, as you'll soon see, there are also plenty of practical benefits to setting up bulkheads too. If you've never considered bulkheads before, they might be a viable alternative to your standard wall illumination.
Outdoor Security
One of the more popular reasons for bulkhead installation in the UK is in the name of security. As mentioned, the sheer durability of bulkhead light fittings means they will withstand all kinds of damage. Not only that, but placed overhead, they can generate a great beam across an outside wall. Even smaller bulkhead lights have spectacular illuminating reach, and that's based on the modern LED standard.
These vast-reaching light fittings can be quite intense used in certain settings. Enclosed in some spaces, they can overpower some interior touches. However, installed to an outside wall, they have nearly unlimited scope to beam far and wide. As these lights were initially designed for ship illumination, it's safe to say that they can protect houses, too.
Some outdoor bulkhead lights can even come with motion sensors attached. This means that anyone approaching your property may not know there is full beam lighting installed until up close. However, always-on outdoor security bulkheads can act as both brilliant deterrents and excellent aesthetic touches.
There isn't a need to worry about the power used for always-on bulkheads. All bulkhead lighting we provide arrives as LED standard. LED lighting is exceptionally efficient compared to the traditional bulbs of old, providing more light for less energy. What's more, you can depend on them for years to come when carefully maintained. Rated to IP56, they'll also withstand indoor and outdoor use.
Outdoor bulkhead lights do not need to stick out or make themselves known above all else, either. Outdoor security staples such as our Mimer LED Outdoor Wall Light are simple, stylish, yet effective. This gentle take on the traditional bulk light standard is increasingly popular – you don't have to go 'full industrial' to benefit. However, as we establish below, the industrial look remains popular.
Security lights need to be robust, wide-beaming and resilient. Whether it's four-bedroom semi-detached or a bungalow, there is always a place for security bulkheads. At Arrow Electrical, we are always committed to providing you with a wide range of choices regardless of your aesthetic.
A Touch of The Industrial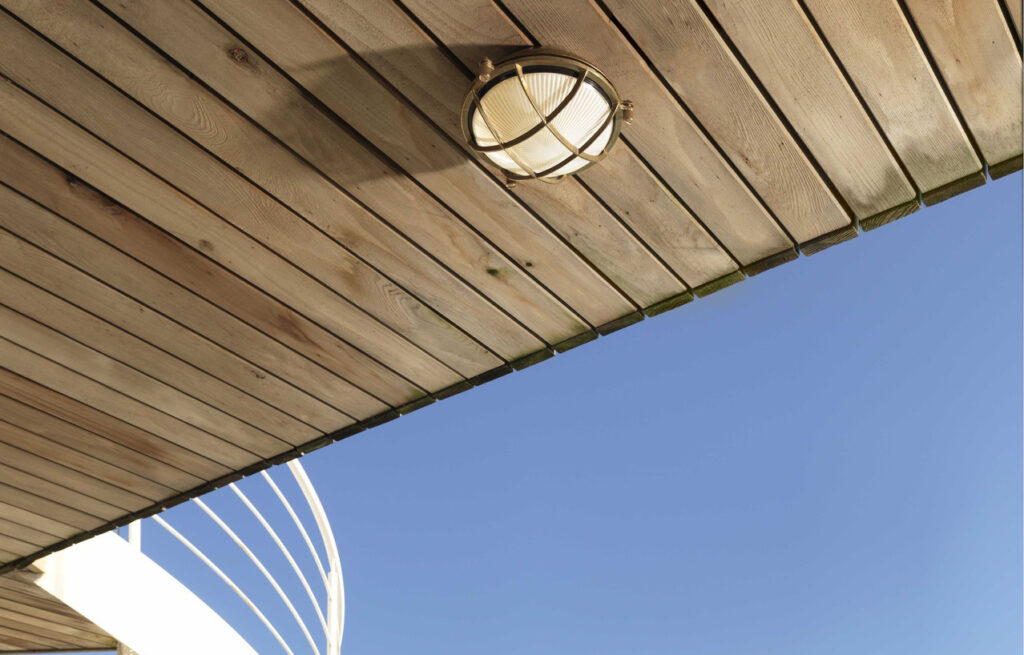 Moreover, it perhaps goes without saying that bulkhead lighting immediately lends itself to the industrial look. Many people opt for bulk lighting outside as a result of their 'instant' industrial aesthetic. As part of a broad trend in 'rugged' and 'steampunk' design, bulkhead lighting is simple to install and blend in.
What's more, many homeowners find that bulkhead lighting is both timeless and versatile. At Arrow, we've strived to bring as many different looks and styles in this lighting type-together.
However, there is little denying the look and charm of the industrial. When installed on urban brickwork or wood panelling, it can help to create a 'rough', appealing look.
Bulkhead lighting can also help to create a unique, vintage aesthetic. Balancing the practicality of the wide-range bulb, it can look spectacular as part of an 'exposed' theme. Bulkhead lights immediately evoke concepts of being on board a ship – for obvious reasons. Homeowners who wish to create this style or look may be big fans of history or simply into their vintage decor.
Moreover, using bulkhead lights to complement a vintage slant works well with various sculptures and works of art. You could use a carefully positioned bulkhead to highlight a feature wall. You could even use a heavy-duty model to draw focus to specific touches around your garden perimeter. Of course, as these lights are cumbersome on the beam, it stands to reason that you'd want to be sparing.
Light fittings such as our magnificent Salcombe Outdoor bulkhead modernise the industrial theme. This sleek take on traditional bulkheads offers a polished, clean and curved option. If you are unsure whether or not industrial bulkheads are for you, this is a safe and delicate choice. You still get the plus points in the wide beam and the heavy-duty build.
Therefore, if you consider heavy-duty lighting outside for any purpose, you can hardly go wrong with industrial bulkheads. If your outdoor space 'celebrates' the urban or exposed aesthetic, this type of lighting adds fantastic decoration.
The Modern Touch
Of course, as mentioned, there's no need to go total industrial unless this style appeals to you. It's entirely possible to maintain a modern and polished look with the benefits of bulkhead practicality. In fact, all of the bulkhead lights we've linked throughout this guide can look great in a modern suite, indoors or outdoors. LEDs and IP56 ratings mean that you can effectively illuminate any space – making bulkheads more practical in contemporary design.
An extra touch to the modern bulkhead lights available from Arrow Electrical is the presence of CCT. CCT allows you to effectively change your light colours in up to three shades. Previously, traditional bulkheads will have only provided one lighting standard. That, again, will have been a result of conventional bulbs and limited technology.
However, all of the bulkhead lights we provide are full-LED, and with CCT, you can splash more personality around. If you don't feel like pushing out an intense white, you can mix things up a little with this built-in technology. This is a leading choice that not everyone may be aware of, so we encourage you to take full advantage.
It is a common misconception that all bulkhead lights have to be rugged or retro. The right fittings, such as the fantastic Lutec Titan in Graphite, carefully walk the best of both worlds. These fittings work brilliantly as part of monochrome or minimalist design. Even with exterior spaces, creating a sleek, inspiring entertaining area with the best lights is entirely possible.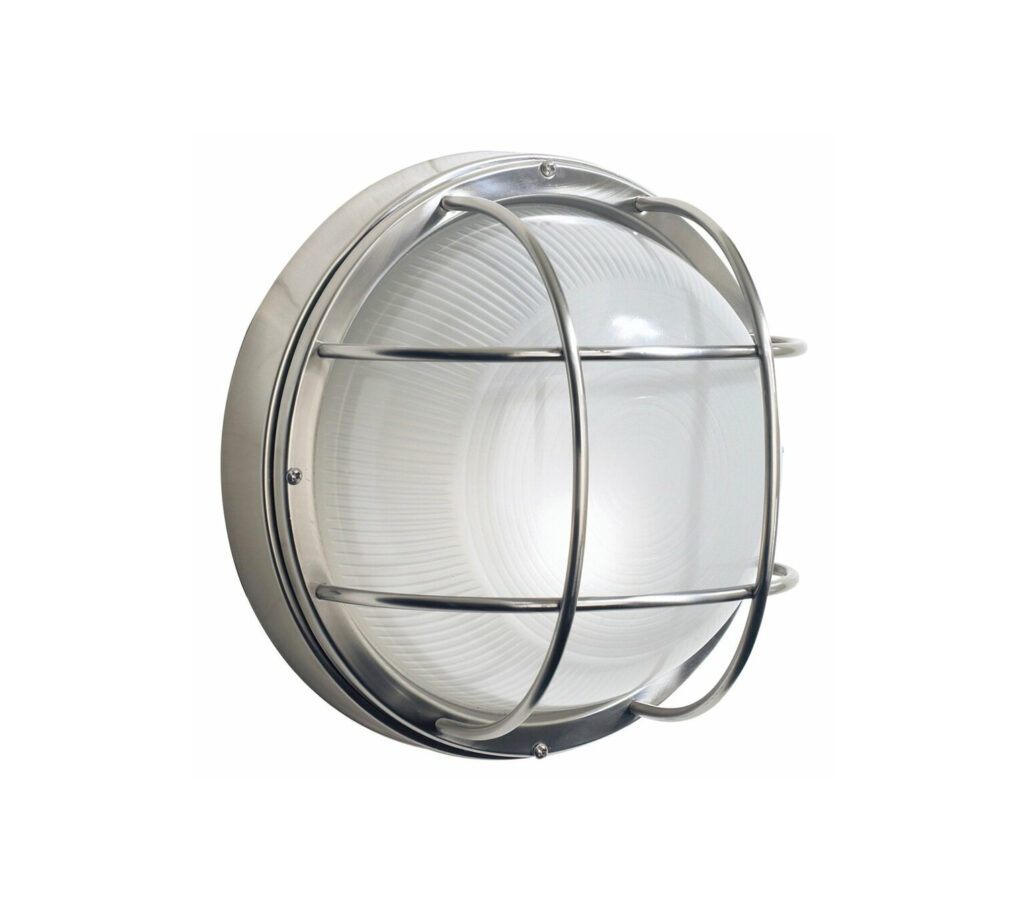 It's also entirely possible to take advantage of the heavy-duty nature of bulkhead lighting without going overboard. These lights offer intense illumination, however, carefully spaced, they can provide a soothing visual effect. The key is to use them sparingly – if you want to, of course!
We believe that brilliant bulkhead lights have a place in modern home design as much as vintage aesthetics. Therefore, don't be afraid to try something a little bit different.
A Unique Indoor Aesthetic?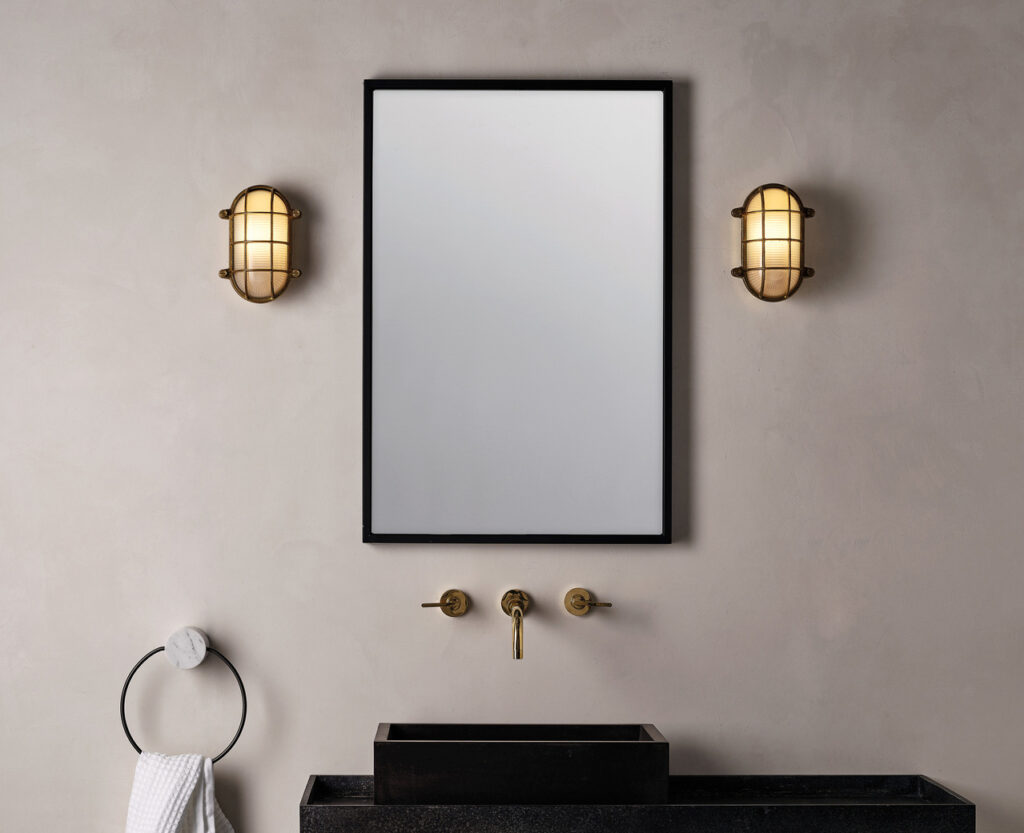 While bulkhead lighting is traditionally reserved for outdoor areas on the home front, why not install bulkheads indoors? It stands to reason, given that these lamps have traditionally been used in warehouses and more – there is precedent. However, there is perhaps some stigma over the fact that heavy-duty lighting generally doesn't blend well with the gentle indoor design.
However, that notion is continuing to be challenged. We highly recommend bulkhead lighting for bathrooms and wet rooms, for example. Their highly waterproof casings make for some of the safest fittings you can install in such damp spaces. What's more, with many bathrooms across the UK likely benefitting from strip lighting, it is a step away from the norm.
There is nothing 'on paper' to suggest that all bathrooms need to be sleek and stylish. Many people opt for wet room spaces that are just as rugged as their outdoor areas. Bathroom and toilet spaces benefitting from urban cladding and exposed beams, for example, may suit bulkhead lighting. Again, some of the lighting choices we've linked to in the Arrow catalogue will blend wonderfully with modern bathroom spaces.
This can get a little trickier when you consider bedrooms, lounges and other indoor spaces. Bulkhead lighting, while LED and designed to modern standards, is still rather intense for enclosed spaces. When creating a delicate glow and romantic atmosphere, for example, bulkheads do not blend well. However, that's on a typical or average basis.
No two homes or rooms are the same. You may have a themed kitchen, den or study steeped in nautical styles. Where there is the need for this 'exposed' look or style, there is room for a bulkhead light. We don't recommend them for comforting living spaces, nor where you need soft lighting. However, where glare is not an issue, and you have ample enough space, they work wonderfully indoors.
Therefore, don't necessarily assume that all bulkheads need to be left outside. Consider your current space and existing decor. Do you have an area where these lights can make a positive difference?
Your Lighting, Your Choice
Bulkhead lighting can be a controversial choice in some ways. In others, however, it is highly reliable and flexible. A superb security standard and for helping to create an industrial charm, these fittings are also modernising more and more. We're pleased to bring in a vast range of wonderful bulkhead looks and fittings to the masses.
In addition, we are pleased to support our customers with bulkhead lighting that are LED and CCT. The idea bulkhead lights have to be awkward or immovable is long behind us. You can now change the colours of your bulkhead lamp with ease, thanks to CCT. What's more, modern LED solutions mean you effectively spend less money keeping them running.
If you've never considered bulkhead lighting before, now's the time to give them a closer look! Arrow Electrical is proud to present a fantastic array of durable, flexible lighting solutions to suit almost any need. Remember, we are also here to help – please reach out and let us know how we can support you.
Recent Posts
While it is perhaps simple to think that light switches and electrical sockets are purely practical …

If you have ever spotted an industrial light or lamp fixed to an outside wall before, it's likely a …

Have you ever taken a look at LED strips before? LEDs are the foremost modern choice in responsible …