Whether the summer period has been and gone or not, it is always a good idea to illuminate your garden. It's a space where you may wish to spend time with friends and family. You may even want to have some 'me time' outdoors, too! In any case, setting up a fantastic wall lantern or two could lighten up your exterior space.
At Arrow Electrical, we are pleased to provide various lantern lighting solutions for exterior walls. Let's take a look at why such options might help you make your outer spaces look that little bit more special.
Create Expressive Framing
If you are ever stuck for anywhere to install external lanterns, then you may wish to start with your doors. Entrance framing is a beautiful way to create an identity for your home's approach. It is an ideal choice for helping to illuminate your path back out of the garden and into the kitchen or lounge.
Framing doors and windows in this way add a certain depth of character. This helps you to point out to guests where the main points of access are, too. As with many other exterior lighting options, box lanterns and can also act as points of safety. Activated after hours, lanterns can help ensure people can find you if they are visiting after dusk.
However, they can also help with keeping your property secure. It also gives you more visibility, too, if you have cameras set up to monitor. However, it is the framing effect that offers the most spectacular results. We are sure you will agree!
It is easy to frame a front door or doorway at the rear of your property with suitable lanterns. A great option will be sensor lanterns – such as our Homefield Sensor in Matt Black. These lanterns will light up when needed, giving them that added layer of security you might demand.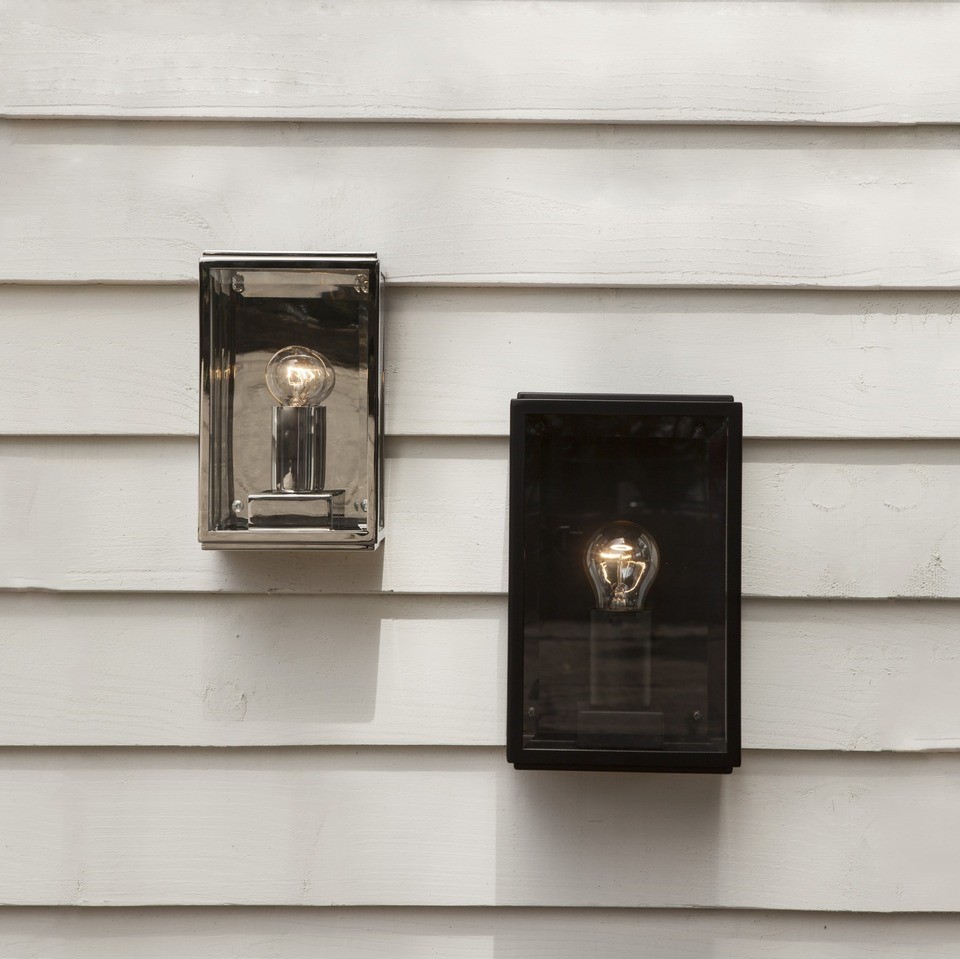 Framing your doorways and entrances can help to create strong statements that carry a lot of character. If you undoubtedly wish to impress your guests, the best way to do so is early on, with an imposing entrance.
It is entirely possible to create expressive framing with a variety of different lighting choices. However, lanterns for walls are bold, expressive, and clean. They can help to make any outer wall look that little bit more modern, too.
Build That Glow
The best exterior wall lanterns could help you to create a unique glow around your garden. For example, you could easily hide or bury a handful of lamps or lanterns around your greenery, just giving enough light. This way, you are not risking overpowering your guests with intensive glare.
In addition, by 'burying the glow', you are still keeping your greenery and any other garden pieces in clear focus. Sometimes, it is too easy to create a lighting effect in your garden and completely spoil the look. However, when choosing the best lanterns and being creative about installing them, you can avoid such harshness.
For example, it may be a good idea to position such lanterns fairly low down so that they don't intrude. This means you can effectively set up plants or features in the middle between two or three lights. This will help add to a calm and purposeful glow, never too 'in your face'. Too much lighting can be pretty aggravating!
A great choice in lanterns for glows of this nature may be the Homefield 130 in Matt Black. Boasting an intentionally minimal bulb, this lantern fixture is designed to help create ambience. It is ideal for strategic placement where you aim to create focus around certain pieces. There are bigger and stronger lanterns and lights you can set up for wider illumination.
However, this option is still perfect for lighting the way in the dark. Therefore, it's entirely possible to nestle these lanterns in with your effects and still keep things nice and safe. There is a duality to outdoor lanterns – to create a gentle glow and light the way back and forth. By taking so much focus away from your lighting itself, you can tick both boxes fairly comfortably.
Exposed Bulbs Create a Specific Type of Atmosphere
If you have spent any time setting up outdoor lighting, you will know that trends come and go. While the flush style lantern and the outdoor lamp will always be popular, there is an emerging taste for going stripped-back. Flush box lamps and lanterns are versatile for all kinds of purposes. However, it takes a very specific twist on an outdoor space to carry off an exposed bulb.
That said, you should never feel excluded from this! The exposed bulb is another icon of the 'upcycling age', bringing aesthetics back to a simple standard. Exposed bulb lanterns fall into the same aesthetic ilk as, say, urban brick cladding. There is something immediately appealing about its ruggedness and its minimal charm.
Rough edges and inner workings have proven to have been popular for more than a few years. The 'hipster' appeal of an exposed bulb lantern has outlived accusations of being a 'fad'. As such, if you are creating a contemporary, stripped-down garden space, exposing bulbs is a solid option.
The Homefield 130, as mentioned above – and even the Homefield in Natural Brass works perfectly to this end. The Natural Brass option carries a dual look of being stripped-back yet elegant. It adds colour to an outdoor space and keeps things knowingly contemporary.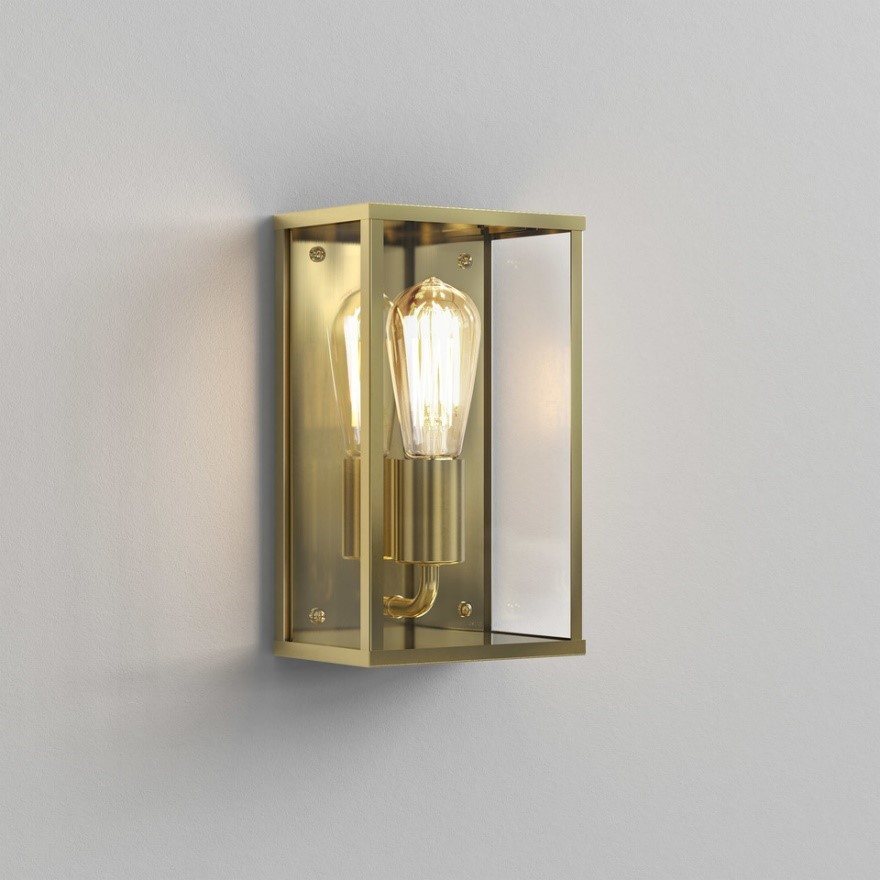 Again, these lantern options may work well if you wish to push more focus to greenery. Or, if you want to illuminate your outdoor walls even slightly, these lamps won't overdo the look. Going open-bulb is undoubtedly a choice that shouldn't be taken lightly. Many people prefer to keep their lighting behind flush windows.
That is understandable. But, even the mildest of glows from these lanterns could create a compelling focal display. Why not consider looking into ways you can bring exposed bulbs into your existing design?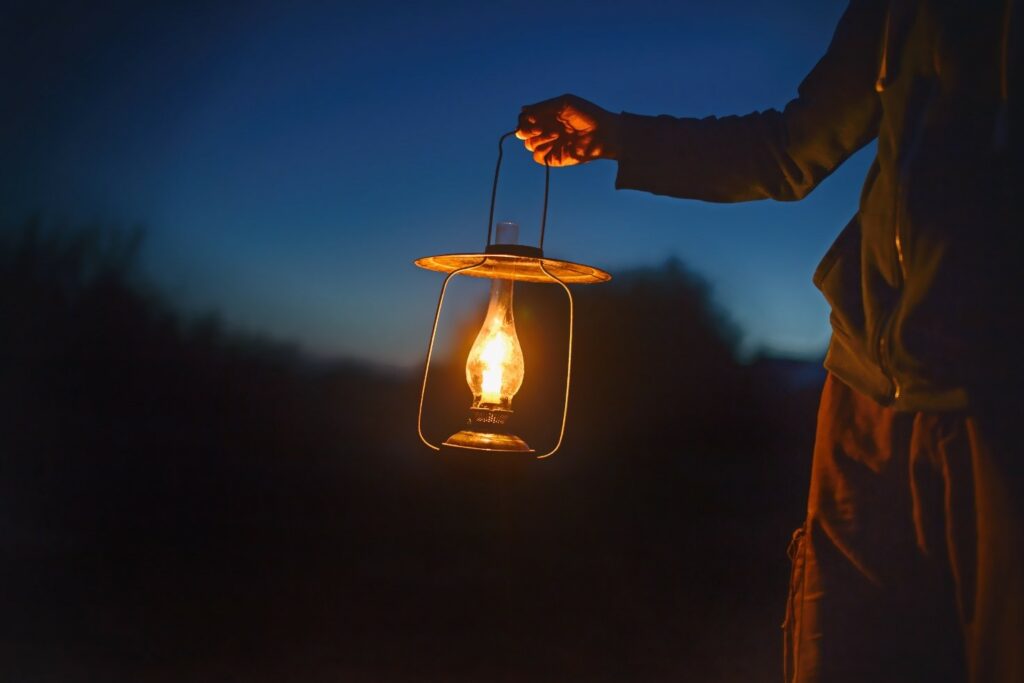 Finally, one reason why many people choose outdoor lanterns for their gardens is for that country look. Specifically, some lantern styles give off a feeling of a simple country property or setup. While there are many contemporary lantern choices, a classical twist could change your whole look.
If your focus is more on building a homely or traditional aesthetic, lanterns are likely a great choice. Lantern lighting on the outside of your home, whether front or back, works wonderfully with a period property. In addition, it can help to blend lighting in with your very particular surroundings.
There is nothing worse than an immediately apparent contemporary fitting. Therefore, you need to be careful to choose stylised lanterns that offer modern illumination. Of course, the safest option will be to select lanterns that minimise aesthetics and instead maximise light.
This is easier said than done. When dressing up the outside of a period property, it is worth looking at many different options. Too much lighting could overstimulate the look – which means it is again worth going minimal, perhaps. It is worth considering how intricate your exterior decoration and fascias already are.
On the approach to your home, however, you may wish to make more of a statement. At a cottage style property or period bungalow, classic lanterns should stand out front and centre. However, be ready to choose a traditional look coupled with a contemporary light fitting.
Yes, traditional lanterns may look great – but for complete ease of use, consider modern technology! Once again, we have various options in our online store to help you embellish a classic look. For quiet garden spaces and outdoor porch areas, country-style lanterns help keep things safe and stylish. Exposed bulbs, in these scenarios, may not always be the best fit.
Which Lanterns Are Right for Me?
As is evident from above, there are many different lantern lighting styles and setups for many different purposes. You could have a contemporary deck that could benefit from exposed bulb lanterns. Or, you may have a chocolate box cottage in need of more traditional fittings. Regardless, modern lanterns arrive in many different styles and shapes.
Our advice would be to consider the overall style of your external areas first. Are you leading with greenery? Or, there's a chance you'd like to make a statement and frame your doorways and windows. Regardless, it pays to add your lanterns last, or risk over-stimulating the areas with glare.
At Arrow Electrical, we are pleased to offer a wide range of exterior lantern options for your walls. Please take a closer look, and for more advice and guidance, don't hesitate to reach out to us.
Recent Posts
Chandeliers – are seen as some of the most opulent and stylish fittings you can hope to set u …

If you're already thinking about how to illuminate your outdoor space, you may be aware there's a w …

Are you considering using landscape lighting in your outdoor space? Spotlights can help to not only …