Our bedrooms are perhaps our favourite rooms – for many of us, anyway! It's a private getaway from the hustle and bustle of the rest of the house. Therefore, it is understandable that you may wish to make a point of dressing up your space with sophistication and style. Why not, indeed?
Achieving glamour and sophistication doesn't have to be complicated or expensive. There are plenty of excellent value lighting and interior design options that will elevate the look of your room. Think carefully about colours, furniture placement, textures and more. But how do you even start to put all of this into practice?
At Arrow Electrical, we work hard to provide a fantastic catalogue of luxury lighting. What's more, we do so with variety and value in mind! Here's our complete guide on how to add a touch of glamour to your bedroom with lighting and more.
Why Add Glamour to Your Bedroom?
The most straightforward answer to this question is 'why not' – after all, it is your personal space. While other rooms in the home are likely to be communal (depending on who lives with you), this is your domain. You may share it with a partner, but it's still a space where you can both let your tastes and personalities shine. Thankfully, this is also surprisingly easy to do.
We also use our bedrooms for comfort and relaxation. Therefore, if you don't use your sleeping space for work or office duties, it makes sense to increase the luxury. Practical touches for storage are a must, of course – but you can prioritise style over substance in most cases. Therefore, many people choose to go all-out on luxury lighting, wallpaper, furnishings, etc.
However, one person's glamour is likely to be another person's garish. That's why it is always prudent to keep an open mind when dressing up a bedroom for luxury. Consider using touches and elements that are stylish but never over the top. It is very easy to overdress a space with too many luxury items – and that applies to lighting, too.
An excellent starting block for implementing lighting glamour in any space is to consider fitting styles. For example, a stunning crystal chandelier in black and brass will tie your room together and add instant flair. Of course, there are many chandeliers and fitting styles out there. As such, it pays to look around at what's available.
Luxury bedroom design depends on elegance and comfort. Consider soft furnishings and eye-catching materials. At the same time, be sure to minimise your space around your favourite fittings. For example, you can have too many chandeliers and sconces in a tiny area!
A great way to get started with luxury bedroom design is to look for insight online. This guide is only the start! For example, have you considered looking at visual ideas via Pinterest and Instagram? Be sure to feast your eyes on some visual inspiration when you have free time.
Considering Chandeliers
As mentioned, chandeliers tend to be a go-to for instant luxury. Is this at all surprising? Crystal chandeliers are stunning to behold. They look spectacular when actively lighting a room and when they are switched off, too! They are immensely popular as ornamental setpieces as much as they are as physical lighting solutions.
Chandeliers are commanding, imposing fixtures that remain timelessly appealing. An opulent chandelier gives off an impression of true class and luxury. What's more, they are mesmerising to look at. They are artisan creations, with careful crystals hanging gently to help add a light touch of sophistication.
Your space does not already need to be overly classical or luxurious to benefit from a chandelier. What's more, these are lighting solutions that don't just have space in the lounge or dining room. Your bedroom is the perfect spot for a stylish chandelier because it offers instant home comfort.
Consider our '600' model crystal chandelier in black with brass accents. Black and brass are popular choices for luxury colour scheming in the first instance – and we'll discuss this below. However, this appealing chandelier choice will blend well with classic and modern bedroom spaces alike. Ideal for a quiet night in or to marvel at on peaceful weekend mornings.
Ultimately, the idea that chandeliers are 'exclusive' or only 'reserved' for certain types of homes or room is outdated. They're certainly standing the test of time concerning their style and practical value. Therefore, if you consider making your bedroom more luxurious, the right chandelier could be an instant fix.
Of course, there are more than chandeliers available to glamourise your space. Consider artistic sconces, gentle wall lights, and carefully positioned spotlight recessing. Our catalogue's here to help!
Go Fun, Go Bold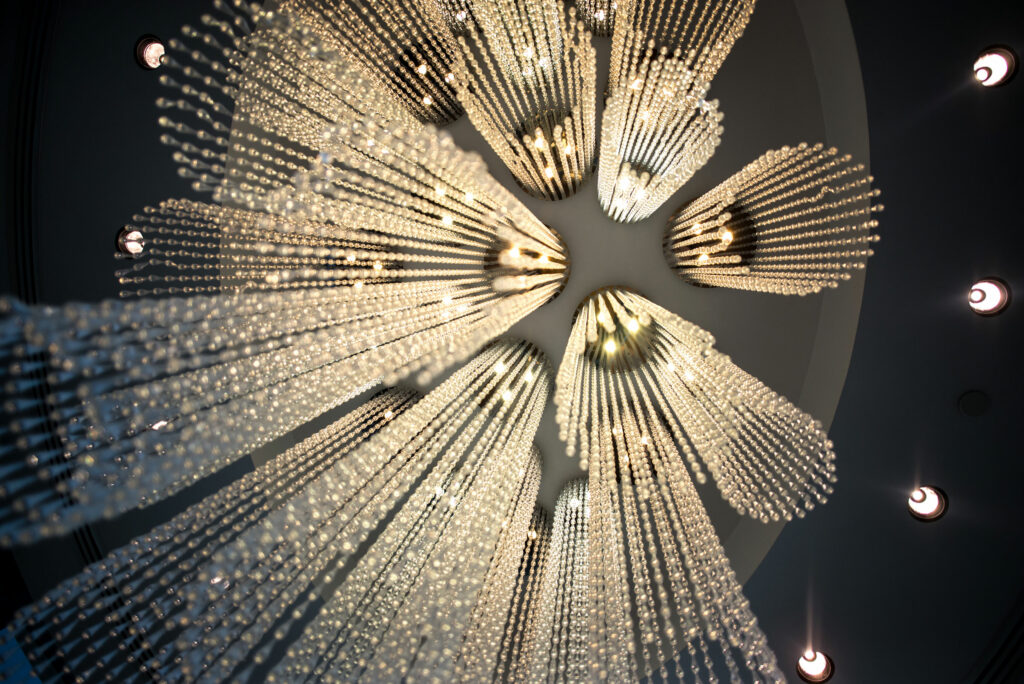 When glamourising a bedroom, some people may forget to have fun during the process! While dressing and designing a personal space can be a serious business, the aim is the bring out personality. Glamorous, exuberant bedrooms are never dull, and they are certainly never drab. Big, bold colours and touches are all but guaranteed – golds, brasses and coppers, for example, are ideal.
Alongside a spectacular light fitting, you should consider the 'unexpected'. Interior design experts recommend going 'bold' and 'fun' above all else when adding glamour. After all, the 'wow factor' is surprising by design! Therefore, choosing colours, shades, and combinations that genuinely evoke strong reactions makes sense. Providing these emotions and reactions of your own are positive, then you are following the right path.
There is a way to keep a bedroom fun and bold while retaining sophistication and 'grown-up' aesthetics. You'll need to keep things light and bouncy or deep and impressive. To do this, overpowering your space is an absolute no-no.
While it's tempting to overdress or overstuff a space, doing so can create an aesthetic that feels restricted. Try to keep walls as clear as possible and let your light bounce freely across colourful walls and furnishings. Above all, it's essential to let your personality and tastes shine through. After all, it is your space!
There's also a strong argument for going rich on patterns and textures. As mentioned, overstuffing is a no-no. However, you can go 'full glam' with ornate flourishes. It's essential to make sure too many other eye-catching features don't undermine these flourishes. Otherwise, you will not only be defeating the object but also making your room more uncomfortable.
Again, a touch of superb glamour without going overboard is achievable using the proper lighting. Our rectangular crystal wall lights in smoky black and brass might be what you're looking for. You'll gain the fantastic benefits of a chandelier without having to hang them down – install them on a wall, instead! Be sure to shop our full range and gain inspiration.
Don't Discount Natural Light
Here at Arrow Electrical, we are naturally tuned into discussing light installations! However, this doesn't mean we disrespect the power of natural light. After all, during the daytime, we all rely on natural light (to some extent) to change the looks of our rooms. Unless you have a bedroom without windows or an exceptionally dark space, it makes sense to harness daylight for glamour!
But how feasible is this? Ultimately, natural light helps to create an unbeatable glow – and providing you are careful with interior design, you can minimise glare. Natural light splashing across demure whites and gentle wooden tones, for example, creates a delicate glamour that's never garish. It is a twist on luxury and class that many of us might overlook!
Natural light can work hard for the bedroom aesthetic by using soft furnishings that are carefully coded for colours and textures. If you have large windows, it makes sense to use the light peeling through. During warmer months, perhaps opt for thinner curtains to let the sunshine through with ease during the mornings.
Of course, natural light is never likely to be a catch-all glamour solution for everyone. Many of you prefer to enhance style and luxury through artificial touches. However, it's never worth discounting natural glow outright, especially when it can help bring out the architecture in your room. Think carefully about the shadows you wish to create and the focal points you aim to highlight.
A definition of glamour and luxury in the bedroom is 'effortless comfort'. Therefore, it is entirely possible to tone down the bold and still make artistic statements. We go into simplicity and minimalism in a little more detail below.
Delicate pieces and furnishings, coupled with natural light, can help to make your bedroom feel lighter in a different sense. Removing heavy colours and unnecessary tones can help establish a natural glamour that you'll always want to return to.
Crucially, you will need to create a space that's enticing to head back to time and again. Why not keep it simple?
Simplicity is a Solution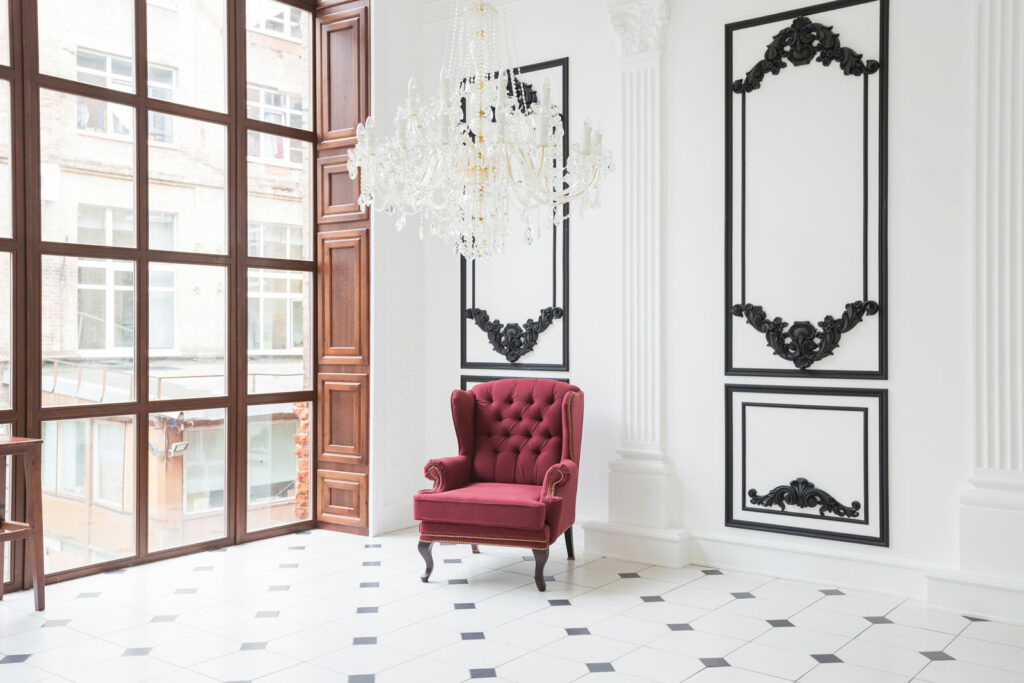 When we think about glamour and luxury, it's easy to think about overly dressy, extremely visual spaces. However, bedroom glamour doesn't have to rely on ornamental touches and excessive dressing purely. Therefore, there's no danger in choosing a handful of colours or tones and avoiding filling every inch of your space.
As mentioned earlier, black and brass make a match that adds effortless luxury regardless of setup and space. This combination is contemporary – and what's more, it's likely to be timeless for the years to come. Black glass and soft furnishings add depth and mystery. Brass, meanwhile, brings careful warmth to colder tones and shades.
Therefore, choosing a handful of black and brass touches is worth considering to add style to your room. Black and gold is also a classic glamour combination that is standing the test of time. Our fantastic DM31 range in black and gold, for example, takes full advantage of this popular palette combo. You won't even need to overdress your bedroom alongside – one simple light fitting is enough to get started with.
In some rooms and spaces, there's a fine line between luxury and overstimulation. That's why it makes sense to try and 'test' interior design and setup before making final decisions. Try introducing slight touches and elements as you go – adding and removing as you complete your look. This way, you can avoid getting overwhelmed or missing the point of luxury touches altogether.
Our advice is to consider starting with as empty a 'shell' as possible. If you've bought a home or are redesigning your main bedroom, try and strip back as best you can. Start with the light fitting and build around it. Where possible, you could draft a design of your perfect luxury or glamorous bedroom space on paper or via software. All considered it's never a good idea to overthink matters!
Simplicity is an overlooked option for glamourising spaces – and we think it stands a good chance of becoming very popular. Why not break ahead of the pack and start minimising your bedroom?
Conclusion
Glamour means different things to different people. That, naturally, is why it's essential to use this guide as a starting point. Which colours and tones appeal to you the most? Which textures and materials give you the most comfort?
Above all, carefully choose a light fitting or chandelier that speaks to your sense of luxury. Arrow Electrical is pleased to offer a wide range of luxury pendants and wall lights to support your needs! Again, another great avenue to follow will be to head through Instagram and Pinterest for visual inspiration online.
Meanwhile, be sure to look at our broader catalogue of choice here at Arrow Electrical. If you need help or advice in getting your ideal glamorous or luxury bedroom up and running, let us know!
Recent Posts
For all they are relaxing and practical in equal measure, bathrooms can be very particular! This is …

Whether you are an artist or simply an art lover, showing off your favourite pieces makes sense. Ho …

Our bedrooms are perhaps our favourite rooms – for many of us, anyway! It's a private getaway …