Bathroom lighting can be split into two purposes:
Waking up and Relaxing…
The bathroom is one of the busiest rooms in the house, especially first thing in the morning when everyone is getting prepared for the day. For this purpose (task based purpose) bright lighting is needed. Specifically down lights, ceiling lights and mirror lighting are perfect for this. Making sure these are in the right positions is the trickiest parts of installing this sort of lighting in a bathroom. With mirror lighting, pre-light mirrors fix this issue for you, if you don't have pre-lit mirrors, then its best to keep the lighting that is surrounding the mirror, symmetrical for the optimum light. Downlights or Pendant Lights over a bath is also essential due to health and safety risks around this area.
Relaxing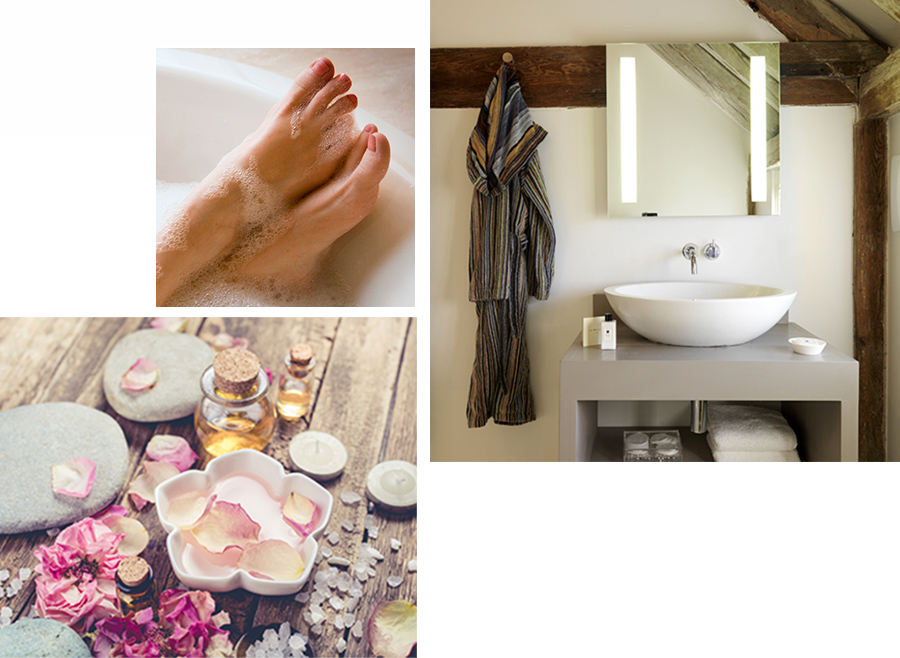 The bathroom is also an area for relaxing at the end of a busy day or week. When thinking about this type of lighting, you should keep in mind a spa-like feel. Warmer, less prominent lighting, such as under-cupboard or under-bath lighting is perfect for creating a calm feel, this can be easily achieved through using LED Lighting.
Getting Creative
Bathrooms are usually fairly small areas, in comparison to other rooms in the home, because of this, it's worth trying to get a little creative with your bathroom lighting, this can be done in a number of ways such as…
positioning
Positioning down-lights in the ceiling to face the wall, this may sound strange, but couple this with a metallic wall and you get a non-glare glow that also reflects around the room. This can work just as well with under cabinet lighting (that is very close to the floor) and a tiled floor, casting the light around the bottom half of the room to create a spa-like ambiance. Illuminated appliances: As well as illuminated mirrors, it is now possible to buy and install illuminated shower-heads in either white light or multi-coloured lights that add a cool, contemporary feel to your shower. It's important to note that there are health and safety laws and policies in place when it comes to the placement of bathroom lighting. Bathroom lighting needs to be IP rated from IP44 or higher. Lighting that is placed near or around showers needs to be IP65 rated.
control
Being able to control different elements of bathroom lighting with separate controls is necessary for using the space for dual purposes. Installing various switches can help with this, and taking this further, installing dimmer switches can also add the ambience needed to help you relax.

It is important to remember that due to health and safety laws, switches and dimmer switches should be placed outside the bathroom. Inside, only pull-cord switches are to be permitted.
Something to keep in mind…
Bathrooms tend to decorated and furnished in white or neutral colours, to avoid a 'clinical', almost 'hospital-feel' to your bathroom, stay away from harsh lighting, and too much eye level lighting, think about casting glows rather than illuminating every corner of the room.
Recent Posts
Who doesn't love choice? The thing about a good set of downlights – any lights – is tha …

When creating a space, it's essential to match everything together. The type of environment t …

Are you looking to replace your current lighting setup and exchange it for something new? If that's …