Top tips on bathroom lighting
The bathroom is one of the most important rooms in the house, and yet it often gets forgotten about when it comes to lighting. Bathroom lighting needs to fulfill a whole variety of different functions throughout the day - from the highly practical for washing, shaving or applying make-up to more sensual mood lighting for relaxing in the bath after a long day.
When you're planning the lighting in your bathroom, you need to consider all the different ways you use the room and the amount of natural light that's available - as well as making sure that your bathroom lighting is safe. After all, we all know that electricity and water don't make a friendly mix.
In this blog, we'll be sharing some useful tips to keep in mind when it comes to lighting your bathroom.
Style
In an average bathroom, there's usually quite a lot going on in terms of accessories and fittings. For a neat streamlined look, match the light fitting finish to the accessories. If you have chrome or nickel taps and towel rail, partner them with chrome or nickel light fittings, match brass accessories with a brass finish and so on.
For a sleek, simple look try the Astro 5579 Ice LED ceiling light in Polished Chrome and Clear Glass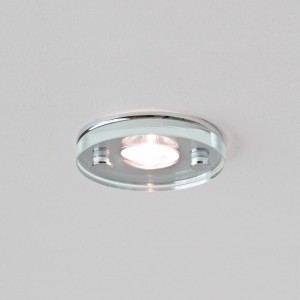 For a classic styled bathroom you might want the more traditional look of the Elstead Lighting Dryden2 Single Light Wall Light in Polished Brass Finish and Glass GS306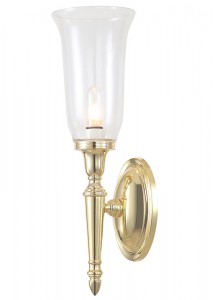 If your bathroom has a particular look or theme, go for lighting that enhances it. For example, you may want something nautical like a porthole-style light like the Searchlight 702SI Jupiter Flush Ceiling Light in Chrome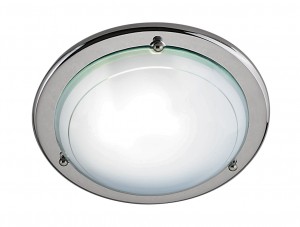 Where to put your bathroom lighting
For obvious reasons, many bathrooms have frosted glass windows so there's often a lack of natural light available. To provide general ambient illumination, start with a good quality ceiling light. Downlights work well in bathrooms, either recessed like this one, theAurora AU-DLM411W 50w Fixed IP65 Bathroom Downlight in White or a semi-flush fitting such as the Paul Neuhaus LED Bathroom Light IP44 with a Aluminum Bezel.
For flexible mood setting, consider a light fitting that is dimmable and tiltable like the NEW 2015 Arrow 10w LED recessed downlight in White which is ideal for bathrooms and fully protected with a high IP65 rating.
Generally speaking, even small bathrooms will benefit from layered lighting as this allows you to switch easily from the practical to the sensual. You'll need a good quality light around the mirror, placed at eye level to avoid shadows over the face. This makes life a lot easier when it comes to applying make-up, shaving or just checking you look good before you go out. Try the Astro Lighting 0915 Monza Plus 400 Wall Light in Polished Chrome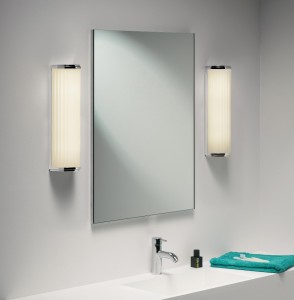 Illuminated mirrors look great in bathrooms. These have a double function – they provide superb task lighting, but when other lights are switched off they can help create a relaxing atmosphere for unwinding in the bath after a hard day at work. For a low-cost flexible option, try LED lighting strips such as the Arrow 12v 5m LED Strip Lighting IP65 Rated SMD35280
Or you can go for an illuminated mirror, like the Arrow 14w LED Illuminated Mirror IP44 with Sensor Switch, Shaver Socket LED Clock & De-misting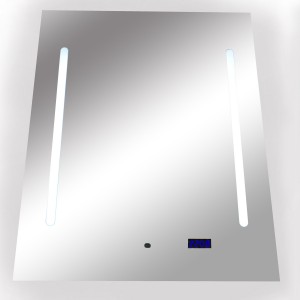 Bathroom Zones
As we said before, water and electricity is a potentially disastrous combination so there are strict rules surrounding the types of lights you can install in a bathroom. Bathroom lighting and outdoor lights are both classified according to an IP (ingress protection) rating. It tells you the water resistance of the individual fitting – the higher the IP number, the greater the protection. For general bathroom lights you'll need a rating of IP44 and above, but bear in mind that the location of the light will determine the IP protection you'll need.
Bathrooms are divided into four zones – 1,2 and 3(Outside Zone). They look like this: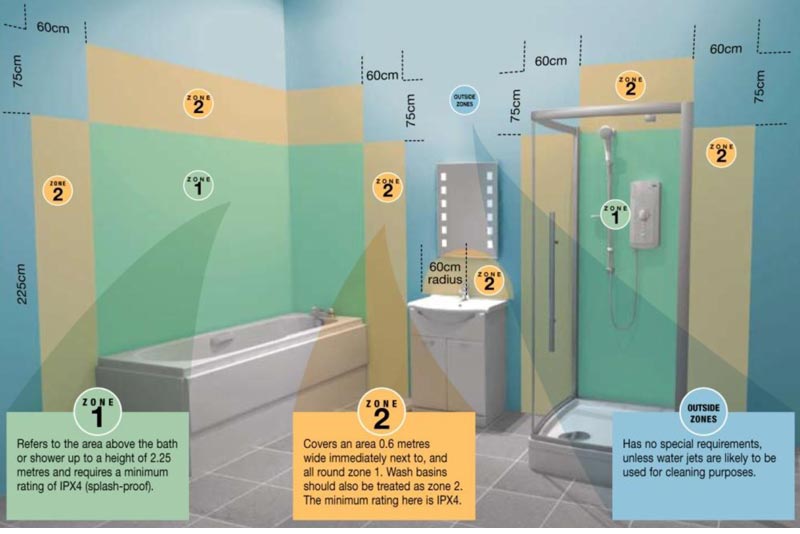 Basically, if you want to install a light in areas 1 or 2 you'll be restricted in what you can use and even in zone 3, electricians recommend a minimum of IP44. In zone 1 (inside the bath, in the shower or within its immediate area) you'll need a fitting rated IP65 which is immersion-proof.
If you're in any doubt at all about bathroom lighting safety, don't hesitate to consult an expert. You can call us at Arrow Electrical for advice (020 8450 0000).
Feature lighting
Once you've sorted out the basic lighting in your bathroom, how about some feature lighting? Less is more when it comes to feature lighting so to avoid overkill, choose just one particular area to highlight – an alcove, the bath itself or a picture.
Portable lights aren't allowed in bathrooms, but there are any number of options available. To highlight a particular area, a directional bathroom spotlight is a great choice. Try the Astro Lighting 6135 Tokai 1 Light Ceiling Spotlight in Polished ChromeFor an alcove, try a recessed downlight like the Arrow Small 3w Fixed LED Downlight in Matt White.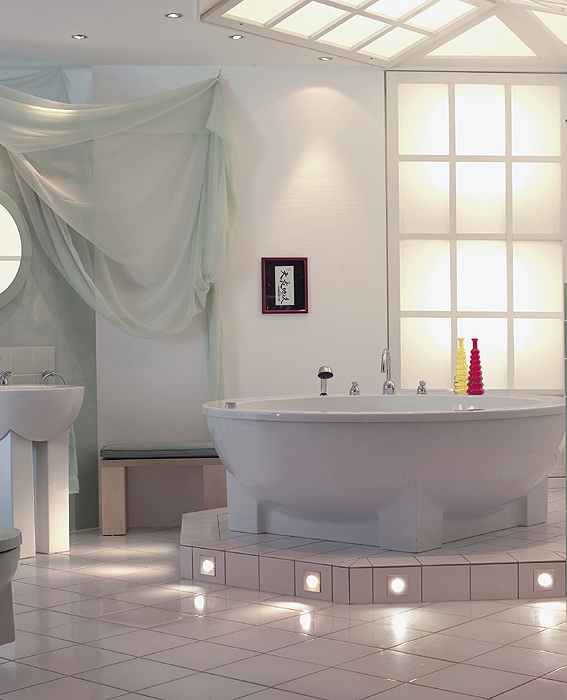 Try something different
Finally, there's no reason why bathroom lighting shouldn't be luxuriously decadent. After all, it's often the only place in the house where you can lock the door, kick back and thoroughly enjoy being on your own.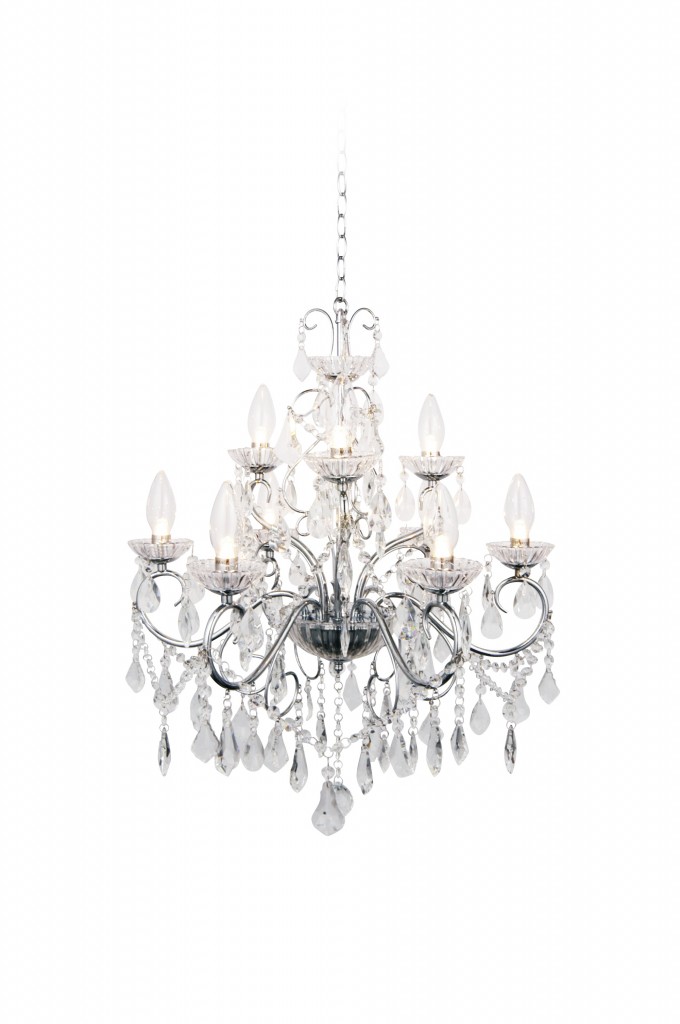 For the full range of bathroom lighting at Arrow Electrical, visit our website at www.arrowelectricals.co.ukor ring us on 020 8450 0000 for expert advice on bathroom lighting and safety
Recent Posts
Who doesn't love choice? The thing about a good set of downlights – any lights – is tha …

When creating a space, it's essential to match everything together. The type of environment t …

Are you looking to replace your current lighting setup and exchange it for something new? If that's …